Bufferapp.com is a widely popular and high ranked website which provides amazing buffer apps, plugins and extensions to schedule posts on different social networks without any effort.
Today, I'm telling you about the awesome Buffer Extension that enables you to share and schedule posts on your social networks directly.
Buffer Extension
Buffer is a great option for sharing and scheduling your posts and content to different social networks such as Twitter and Facebook etc. It means you don't need to open different account to share posts instead you can do it very fast and simply by using Buffer extension.
Now, you might be thinking that how can you see the activity on your shared post without opening social account (Facebook, Twitter), so it also provides the complete analytics about clicks, retweets, mentions, shares, likes and more.
Top Features of Buffer
Are you eager to know its outstanding features? So, get ready for that. Now I'm going to showcase some of its important features that you may like.
Buffer Extension integrates directly with Twitter, Facebook and other social accounts.
Whenever you are reading in Google Reader, you can hit the Buffer button to share a link to the actual article you are reading.
You can schedule posts on your social accounts directly from Buffer and can also see the analytics about how many clicks, retweets, likes, shares and more you received on each post you've shared.
Add your social accounts with Buffer and you'll be tweeting and posting to Facebook consistently.
How It Works
Generally, if you use Google Chrome, you'll find it very simple and fast to use. Learn here – how to use Buffer for sharing and scheduling posts on Facebook and Twitter etc.
Firstly go to Bufferapp.com/Extras and and click on the link for Download the Buffer Chrome Extension.
Now click on Add in the popup box and it will automatically be added to your Chrome browser.
Now, click on the Buffer icon at the right most corner of the browser and then share the post by logging in to your Twitter, Facebook or Linked in account.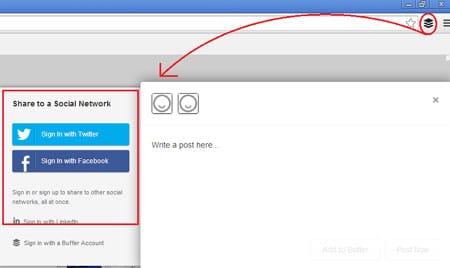 You can also schedule your post to any social network by just clicking on the clock icon and select the date and time. Finally click on Schedule. In the following picture I scheduled a tweet.
Further Reading:
That's all guys, I hope this article will be helpful for you. With this amazing Buffer extension you can share as well as schedule any of your posts and tweets to Facebook, Linkedin and Twitter without any difficulty.