Monsoons are pleasant but many times we have to incur many impairments. How? Due to moistening the important tech gadgets such as smartphone, earphone etc. in the raining, monsoons can be proven unlucky for you.
So, to keep beside the fear of damaging any of your essential gadget in monsoon, you should always buy waterproof gadgets to fear free enjoy the raining.
On keeping these things in mind, I've brought the cool and very essential waterproof gadgets to enjoy monsoons fearlessly. This list of waterproof gadgets for monsoons is a complete set of tech gadgets you always must have such as a waterproof smartphone, earphone, portable waterproof speaker, waterproof case for mobile etc.
Have a look on these cool gadgets to enjoy monsoons without any fear of damage:
Samsung Galaxy S5
Smartphone is the most essential thing in this age and to enjoy monsoons fearlessly I recommend you to buy Samsung Galaxy S5 waterproof and dust resistant smartphone made by the leading Samsung Electronics.
Key Features:
5.1 inches Full HD Display
16 MP rear and 2 MP front camera
Android 4.4.2 Kitkat OS
2 GB RAM and 16 GB internal storage
1.3 GHz processor
2800 mAh Battery Capacity
Note: Sony is also launching many waterproof smartphones in the market. Sony Xperia Z2 is the best alternative to Samsung Galaxy S5 in case of waterproof smartphone.
Read Also: Best Waterproof Smartphones Available in India
Bubble Shield Waterproof Cover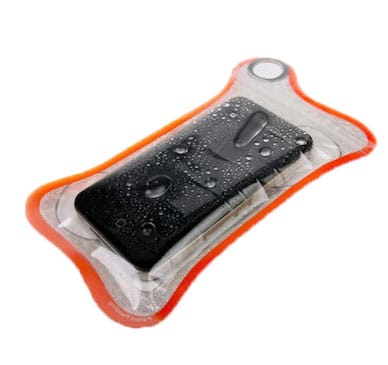 In case if you don't want to buy a new smartphone and provide safety to your existing phone, you can use Bubble Shield Waterproof Cover to put your phone inside this waterproof case.
Bubble Shield is a waterproof sleeve for your smartphone that makes your mobile waterproof. In reality, Bubble Shield is suitable for rainy weather and completely protects your mobile from water.
Related Post: Gadgets To Make Your Smartphone Waterproof
Sony Walkman NWZ-W27 4GB
It is Sony's W Series MP3 Walkman of 4 GB size. You can keep the music flowing even when you're swimming because it is a waterproof gadget. It has compact and lightweight design to move freely and fearlessly in the monsoons. So, you don't need to leave your music behind.
Braven BRV – 1
Braven BRV – 1 is a water resistant Bluetooth speaker, which is available with the price tag of approx $ 149.99.  This Bluetooth speaker proves to be the best when you are on an adventure because it can bear harsh to harsh environmental conditions. So, if you want to enjoy monsoons on the roof with music and dancing, then it will be the best gadget for you in this regard.
Related: Top 5 Bluetooth Speakers With Astonishing Look
So, will really these gadgets enable you to enjoy the pleasant monsoons fearlessly? Leave your thoughts in the comments and tell about your choice from these gadgets.