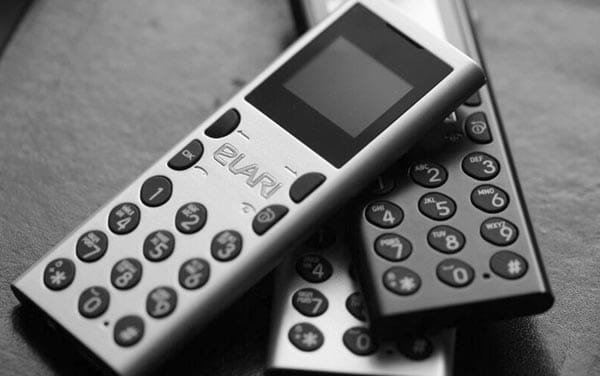 The days of small screen mobile phones haven't gone yet. In this smartphone era where the mobile screens are getting bigger than 5-inches, Elari NanoPhone C has come as a surprise for everyone. It is a pure delight for the people who still love the small screen phones.
Elari NanoPhone C is lightest phone in the world weighing just 30 grams and measures 94.4×35.8×7.6mm in dimensions.
It is targeted as a companion device for user's smartphone and can easily pair up with iOS or Android device via Bluetooth, letting it to receive and make the calls.
It can be used as a standalone device and can copy around 1000 contacts for you. Let's have a brief insight about its specs.
A Sneak Peak into the Features of NanoPhone C
The all new NanoPhone C features 1-inch bright colorful TFT display supporting the display resolution of 128 X 96 pixels, 32 MB RAM, 32MB inbuilt storage, and a MediaTek MT6261D processor. As told earlier, the phone measures 94.4 X 35.8 X 7.6mm in dimensions and weighs only 30grams. It is really compact and has got beautiful rounded buttons.
The 32MB inbuilt memory can be expanded to 32GB via memory card. It has got a microSIM card slot. You can even activate the Airplane mode when you don't wish to take the calls. The MP3 Player and FM radio will not let you get bored. You can even transfer the music files and contacts to other devices.
Further, it also has a USB port for charging and a headphone jack. It has even got 'Magic Voice' function that can be used to make prank calls to any contact with a funny sound. You can record the voice using the 'Voice Recorder' function on the phone.
As this phone can be paired with iOS and Android smartphone via Bluetooth to make and receive the call, Elari claims that using it in this way will lower the risk on your health.  This is because Bluetooth emits lower radiations as compared to the smartphone antenna.
Moreover, the phone supports multiple languages including English, Spanish, Italian, French, Portuguese, Dutch, German, Turkish, Arabic, Russian, Lativian, Estonian, and Lithuanian. NanoPhone C is available in three different colors – Black, rose Gold, and Platinum Silver.
NanoPhone C Battery & Price
Elari NanoPhone C has got a 280mAh Lithium-polymer battery that claims to offer up to 4 hours of talk time on full charge and a standby time of 4days.
If you are looking to buy the lightest mobile phone of the world then you can purchase it from Yerha.com at just 3490INR. The shipping of this phone will start from 30th July.