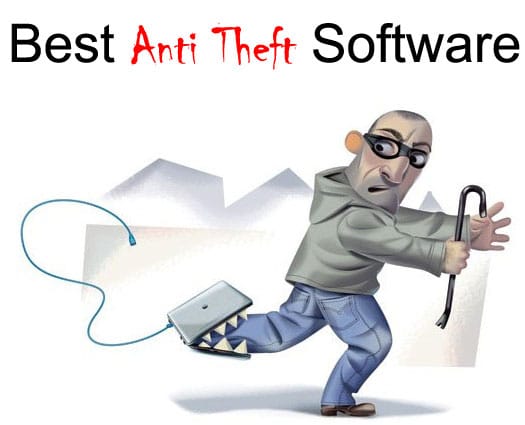 As in my old posts, I've written about the different anti-theft applications for Android, iPhone, Windows Phone, and BlackBerry devices, and today as the security of laptops is also a great issue of concern along with smartphones, I came up with the best and free anti-theft software programs for your Windows and Mac laptops.
As the name suggests, the anti-theft software helps you protect your laptops from being stolen by means of ways. Anti-theft software is designed to keep track of your laptop's location and retrieve it anytime whenever needed, but the only caution is that the laptop has to be connected to the Internet before the location is traced.
Best Free Anti-Theft Software for Your Laptop
Different anti-theft software may have different features, so look at the following anti-theft software and download the best one on your laptop.
Prey is the most popular and cross-platform anti-theft solution for your laptop or other devices having different operating systems include Mac, Windows, Linux, Android, iOS, etc. It lets you keep track and trigger actions on all your devices from a single place like a universal remote control, but for gadgets.
When your data is at stake, bad things can happen. So, in that worst condition, Prey will help you lock down your devices and delete your stored passwords, to ensure that no one will have access to your private stuff.
It silently sits in the background of your computer so that thief couldn't detect it and captures photographs of the thief from the laptop's webcam as well as screenshots of websites surfed when the thief is running your device and then it sends all the gathered evidence to your mailbox or depending on the reporting method you choose.
2. LAlarm
LAlarm is free laptop alarm security software. LAlarm sounds an alarm when a laptop is in danger of being stolen or losing data, and it can recover and destroy data if the laptop is stolen. LAlarm consists of seven alarms and other security functions designed to protect laptops, sensitive data, and laptop users.
LAlarm is important for a variety of reasons such as to prevent laptops from thieves, protect sensitive data, prolong the battery lifetime, prevent data corruption, prevent data loss, and more.
There are lots of features of LAlarm anti-theft software as mentioned below:
Health Alarm – Alert the user when using a computer for an extended period of time in order to prevent computer-related injuries.
Perimeter Alarm – Alert when a laptop goes outside a perimeter. It helps prevent laptop misuse and keeps the laptop within a safe boundary.
Inattention Alarm – Sound an alarm when the owner leaves the computer unattended in an unsafe area for a period of time. It helps prevent laptop theft.
Theft Alarm – Prevent laptop theft by sounding an alarm when a thief tries to steal a laptop.
Battery Alarm – Alarm when the battery is under stress in order to preserve the battery capacity and prolong the battery lifetime. It also alarms when the battery level is low to prevent data corruption due to sudden power loss.
Disk Alarm – Alarm when a hard disk drive needs a repair or replacement in order to prevent data loss and laptop failure.
Panic Alarm – Alert an emergency contact in case of an emergency. Also emits a loud alarm sound to protect the user from an attacker.
Data Destruction – Protect sensitive data by destroying the data if the laptop is stolen.
Data Recovery – Can recover data from a stolen laptop.
Mobile Phone Alert – Send an alert to a mobile phone via email or SMS.
Theft Response – You can tell your laptop what to do in advance if your laptop is in hands of a thief.
Panic Alarm – Alert an emergency contact in case of an emergency. Also emits a loud alarm sound to protect the user from an attacker.
It supports almost all versions of the Windows operating system except Windows 8.
iAlertU is an alarm system for your Apple MacBook that uses built-in motion detection to trigger the alarm and the iSight to capture the image of the thief.
It has many more features as listed below and one of the most lovable features is that all of your devices such as iPhone, iPad, and iPod Touch can be used to connect to and control iAlertU remotely.
Snow Leopard Support
Auto arming at the login
Option screenshot capture with every iSight photo.
Support for multi-screen Mac's
iPhone integration (0.71 and later)
Spoken alarm (0.70 and later)
Multi-lingual support for German, Dutch, French, English, Spanish and Korean
CoreLocation support. iAlertU will attempt to locate your Mac for you!
Integrated login item support.
Configurable device filters (0.70 and later)
Command-line support for manual snaps; good for remote access.
Applescript support (0.69 and later).
Configurable device filters (0.70 and later)
Leopard 10.5.8 Support (up to v0.69 only)
User-selectable sounds and logo (0.70 and later)
Guys, I listed only 3 anti-theft software for your Windows and Mac laptops because all of them can be used free of cost. However, there are lots of anti-theft device tracker applications available but they are commercial such as Lojack for Laptops, GadgetTrak, and many more.
Moreover, if you find any other free anti-theft application for Windows or MAC devices, don't forget to mention it in the comments to make this resource more helpful for other people.