As we ever see in our surrounding that smartphones are mostly stolen day to day. It has now become a challenge for us to protect our smartphone from thieves. Smartphones are costly and such costly smartphones are stealing.
The most dangerous disadvantage of mobile theft is that the thief can use your private data and other material of your smartphone. So, it is really very necessary to protect smartphone from thieves.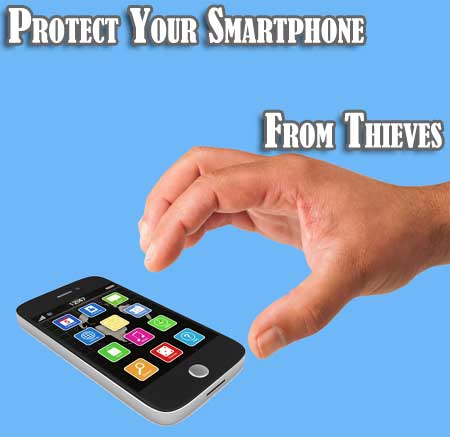 The most important and genuine approach to protect your smartphone from thieves is to ever nearby your smartphone and never leave it at any strange place. Simply, ever keep your smartphone in your pocket. In addition, some technical ways are also available in the market that will help you protect your costly smartphones form theft.
So, here I'm going to tell you two such ways –
1. Use Secure Cases For Smartphones
As we all know that it is more difficult to protect smartphones or tablets than laptops and computers from thieves. As there are several ways I discussed in my previous article to protect laptops from thieves such as Kensington port locks etc.
But, smartphone and tablets don't have such type of security ports to lock them. In such case, various companies launched the secure cases for smartphones and tablets. These cases lock your device with the desk and no one can take out them without your permission.
Some of the popular companies providing these cases are Kensington and Rokform. You can buy these secure cases simply from online shopping websites.
2. Use Anti-Theft Apps & Software
It is very necessary to have anti-theft apps in your smartphones and tablets. These apps and software protects your smartphone from thieves and if stolen, they help to locate or track your smartphone or tablet.
These apps also help you to find your smartphone when you misplaced it, password protect your data and so many features.
Whether you have Android Phone, BlackBerry, Windows Phone or Apple smartphones such as iPhone and iPad, several anti-theft apps are available in market for each of above smartphone companies.
Here's some best anti-theft apps for different smartphones:
So, guys using these apps you can provide the strong protection to your smartphone and still if lost or stolen, these apps also help you to track your smartphone and you can get them back soon.