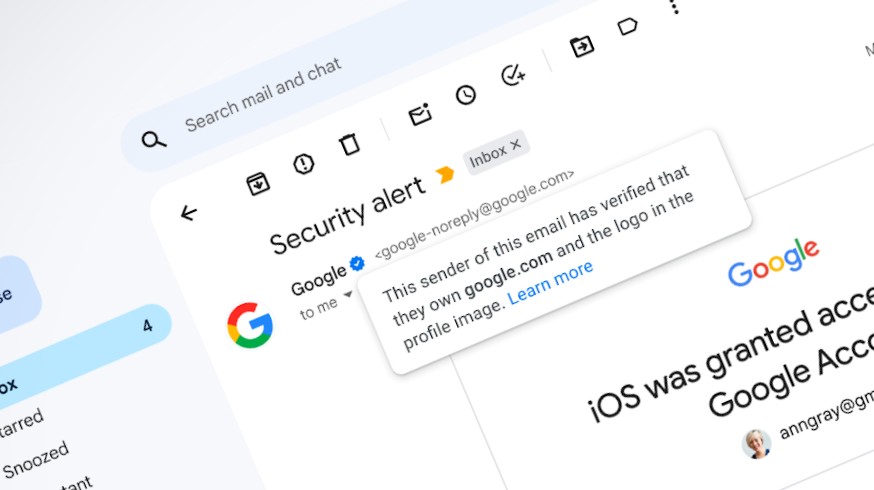 Ever since Twitter started taking back blue ticks from users on the pretext of paid blue tick service, it's been a hot topic in the tech world. Amid this Twitter's blue tick trend, suddenly Google's Gmail announced to start giving Blue Tick to verified senders. But Gmail's Blue Tick will be free, unlike Twitter.
Google talked about this new feature in its latest blog post. According to this blog post, this is an add-on feature to 2021 announced BIMI (Brand Indicators for Message Identification). Let you know, the BIMI is a security standard that shows the logo or avatar on the sender's profile so that users can get to know about the senders before opening the mail.
Now, after rolling out this new feature, users will get more security as there will be a checkmark icon on users' mail IDs. This checkmark will help the users to be assured about the sender's authority as only verified Gmail users will get this checkmark on their Gmail ID. With this new feature, users will be able to differentiate the authorized and spam emails.
Google has already started to roll out this Gmail's Blue Tick feature. Even many Gmail account holders have got a checkmark on their profile. But what about other people who haven't got the Blue Tick on their profile? For those, here we are discussing some tips and tricks on How to get Blue Tick on your Gmail profile or to be verified on Gmail.
How to Get Blue Tick on Gmail? Get Verified on Gmail
The first thing to note about getting a blue tick on Gmail is this feature is not made for the end users but for organizations and companies. It is accessible for personal Gmail Accounts, Business Gmail accounts, and legacy G Suite Basic customers. But, is only having these accounts enough to get verified on Gmail?
Absolutely, not. Then how can you get Blue Tick on Gmail? Well, there is no guaranteed way to be a verified Gmail user and get a Blue Tick on Google so far. But, it doesn't mean that there is no way of it. The following are some tips that can help you get verified and get a blue tick on Gmail.
Set-Up BIMI
The foremost step to getting Blue Tick on Gmail is to set up your email-id's BIMI. Basically, it is an email authentication standard that allows account holders to display their logos in the email messages that they send. Although setting up BIMI is a lengthy and technical process at the same time. But, you can try to set up your Gmail's BIMI by following some basic steps which are;
First, create a Verified Mark Certificate (VMC) with the help of a BIMI Authorised Marking Authority.
Add a new TXT record to your domain's DNS records containing the VMC data and publish it.
Confirm that the DNS record is properly set up by utilizing a BIMI validator tool to check it.
Request that email service provider, such as Gmail or Yahoo, enable BIMI for your domain.
Once BIMI is enabled, your company's logo will be visible beside your email messages in email clients that support the feature.
As mentioned earlier, it is a lengthy process to set up the BIMI. If you cannot set it up after following these steps, you can take help from the Google Support page where the complete procedure is explained.
Go Through The DMARC
Going through the DMARC (Domain-based Message Authentication, Reporting, and Conformance) is the second step to getting Blue Tick on Gmail. Like the BIMI, it is also an email authentication standard that helps prevent email phishing and spoofing attacks by allowing domain owners to specify which emails should be accepted or rejected. You can follow the given steps to set up DMARC.
Analyze your email infrastructure and identify which email domains need protection.
Create a DMARC record in your domain's DNS settings, specifying the DMARC policy.
Set the DMARC policy to "none" to begin monitoring email traffic.
Use a DMARC monitoring tool to collect and analyze DMARC reports.
Update the DMARC policy to "quarantine" or "reject" to instruct email receivers to quarantine or reject emails that fail the DMARC authentication check.
Maybe you face difficulties while setting it up so you can seek technical help from an experienced professional. Also, you can follow the Google Support page that explains this in-depth.
Final Checks
After setting up BIMI and DMARC, you have to check some last points that play a vital role in getting Blue Tick on Gmail. And those points are:
The logo you submitted at the time of BIMI has to be issued by security companies like DigiCert and Entrust.
Your ID logo has to be verified with VMC (Verified Mark Certificate).
Verdict Words
No doubt the receiver will get benefits of this feature as the Blue Tick on the Gmail profile will create one more security layer to identify spam or phishing emails. Along with the receivers, Blue Tick in Gmail will be helpful for the senders as well. This Blue Tick on the Gmail profile will increase the chances of reaching senders' messages to receivers as the checkmark shows the authority of the sender. And users got more confidence to open authorized mail sent by a verified user.