It's honestly one of the most irritating situations when you try to delete any file or folder in your PC and it gives the "cannot delete" error. Isn't it?
This cannot delete problem occurs due to many reasons. In some situations, the file is being used by the essential Windows programs such as Windows Explorer, which prevents it from being removed. It's also possible your computer is infected by virus and the file is created by any Spyware, Malware, Ad-ware or any Trojan.
In different situations, there are different error messages comes out when try to delete undeletable files or folders such as "Cannot delete file", "Access is denied", "undeleted files", "Could not find the item", "The file is in use by another program or user", or "There has been a sharing violation!" etc.
How to Delete Undeletable Files/Folders in Windows 7
If you also have undeletable files or folders in your Windows 7 computer, keep calm and don't worry as in this article I'm going to solve out this problem forever.
I've two excellent methods to easily delete undeletable files and folders from Windows 7 computer, and honestly the first one is easiest and powerful.
Method #1: Using an Unlocker Software
There might be many different unlocker software available on the web but one of the best and tested by me is IObit Unlocker. It is the easiest and absolutely free solution to delete undeletable files and folders in your Windows computer.
I deleted many virus generated undeletable files and folders from my Windows 7 PC by using IObit Unlocker software program.
You can download IObit Unlocker from its official website for absolutely free. It not only works with Windows 7 but also with Windows 8 and Windows 10.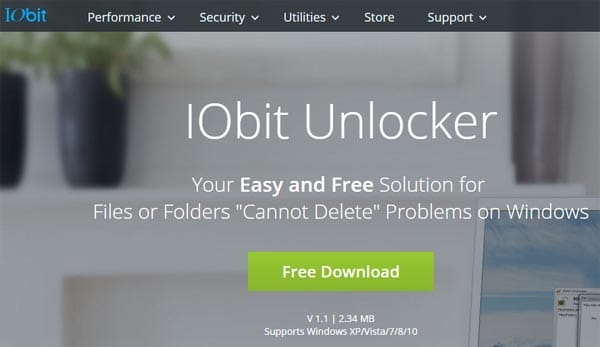 After downloading the IObit Unlocker setup, run it and install in the computer. Once it's download and installed properly, right click on the file you want delete and click on IObit Unlocker option.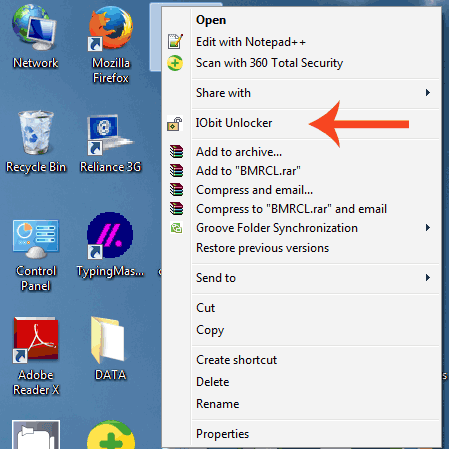 Now, the IObit Unlocker program will run for the selected file and here you need to choose the Unlock & Delete option by clicking on dropdown button as shown in the following screenshot.
As soon as you click on this Unlock & Delete option, a popup message will open for confirming "It will permanently delete files & folders. Continue?", click on OK button and you're done. Isn't it very simple?
Must Read: Best Uninstallers for Windows 7 Computer
Method #2: Using Command Prompt
This is another to delete undeletable files and folders in Windows 7 computer but honestly it's not that effective. I tried deleting some undeletable files and folders from my Windows PC but it didn't work for all.
However, this Command Prompt method helped me delete at least a few undeletable files in my Windows 7 PC, so I think it also be an effective method for many, and going to share you.
So, to delete any file or folder using Command Prompt, first of all open in your Windows PC and type and run the DEL command. Just after this command you also need to put the complete path of the file that will look like the following:
DEL C:\Users\Raman\Desktop\undeletable.exe
So, by using command prompt you can try deleting the undeletable files and folders too from your Windows computer.
Final Words
However, finally I would like to suggest you to use IObit Unlocker software program as it's the most effective, easiest and powerful solution for deleting undeletable files and folders from Windows PC.
Also let me know your thoughts about these two methods; which one worked for you? That's all guys. If this article helped you short out your computer file or folder's "cannot delete" problem, do share with your friends to let them know about this useful piece of info.
Recommended Windows 7 Tricks: