In one of my previous articles, I've compiled a trick for hiding folders in Windows 7 but this trick completely hides the folder from computer until you make it unhide.Whereas with the help of this article you can make a folder invisible, however the folder will exist at that place and you can find it by hovering mouse on it.
In this article, I'm going to guide you, how to make a folder invisible in Windows 7 computer. You can use this trick for hiding your secret stuff inside folder or for impressing your friends or colleagues.
So, guys get ready for making a folder invisible in Windows 7. To do so, you'll have to apply the under written steps very comfortably and carefully.
Have a look on the following steps for making a folder invisible in Windows 7 PC:
Firstly, go to Start menu and type Character Map and hit Enter. Now, click on Dropdown list in Character Map and select Bradley Hand ITC.
Now, select a blank character from the Bradley Hand ITC character set and then click on Copy to copy it.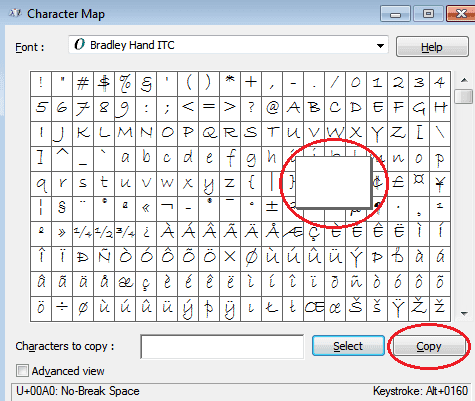 Now, look for the folder you want to make invisible. So, rename it with the blank character copied in the previous step. You just need to paste (Ctrl+V) it and folder will save without any name.
Now, right click on the folder and select Properties.
You'll see the Properties screen. Click on Customize tab and then Change Icon as shown in following picture.
Again as of blank character, select a Blank Icon for the folder and click on OK twice.
Further Reading:
That's all! As you click on OK, you'll see that the folder is invisible. So, if you apply the above procedure serially and systematically, then you'll be able t make any folder invisible in your Windows computer.