Are you receiving tens or hundreds of trackback spams on WordPress and unable to stop them forever? So, this article will provide you very simple and common way to stop them permanently.
In this article, I'm going to tell you how to easily stop trackback spam on WordPress. So guys, you can do it very simply without installing any plugin. But you just need to configure your WordPress settings to disable receiving Trackback and Pingbacks on your WordPress dashboard.
What type of setting they are and how to configure them to stop trackback spam on WordPress? This question might be arising in your mind right now! Don't worry, here are very simple steps with screenshots that will help you stop trackback spams on WordPress easily.
How To Easily Stop Trackback Spam on WordPress
Now, I move on to the point and give you to appropriate steps to easily stop trackback spam on WordPress. So, have a look on these simple steps to stop trackbacks on WordPress.
Recommended Posts:
STEP 1: First of all, log into your WordPress admin.
STEP 2: After log in, move cursor to Settings and select Discussions.
STEP 3: Now in the Discussion Settings, look for Default article settings and uncheck "" as shown in the following picture.

That's all, finally click on Save Changes and you'll be stopped trackback spam on WordPress. Isn't it the easy and very quick method to stop receiving trackbacks on your new WordPress posts.
Notice friends, after applying this trick, you'll not receive trackbacks on your new posts. But has anybody thought about the older posts? So, let me tell you that the above method will only prevent your newer posts from trackbacks but all your older posts will still receive trackbacks on WordPress.
I've some methods to stop receiving trackbacks on your older posts. Have a look on them:
Disable Trackbacks in Individual Posts
If you're a blog/website with lots of content, then it is very difficult to disable trackback in individual post. But if you've less amount of posts, then you can edit them individually by using the following procedure.
To do so, edit the post in WordPress and expand Screen Options.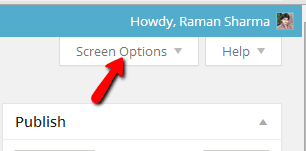 Now, in the Screen Options, uncheck the term "Send Trackbacks" as shown in the following picture.
Disable Trackbacks From All Posts At Once
To stop trackbacks from all the posts (old, new), you've visit your cPanel. Have a look on the steps to stop trackback spam on WordPress entirely.
STEP 1: Log into your cPanel account and click on phpMyAdmin under Databases.
STEP 2: Now in the phpMyAdmin tap on SQL and enter the following SQL query in the clipboard and click on Go.
UPDATE wp_posts SET ping_status="closed";
That's it, this will lead to disabling of receiving trackbacks on your WordPress completely. After this, you won't need to worry about trackback spams.
In the above SQL query, I've used wp_posts because I assume that you're using wp_ prefix for your WordPress database. Or if you're using other prefix such as wp-, bp_ then replace wp_ in the query with your prefix.
On the other hand if you're a plugin lover and always uses plugins for everything on WordPress, then I've a plugin for you to stop trackback spam on WordPress. But, according to me, you shouldn't use so many plugins on WordPress. If this problem can solve out without plugin, then why to use plugin.
Further Reading:
Finally, thanks for reading me and I hope it will work for you. Don't forget to share this article on your social profiles/pages/groups and help to spread it to more and more people around the world.