It happened many times with me but I never tried to find out the solution. But, sometimes I used to hardly disappoint when the video didn't play in my region. Nonetheless, I never tried to find out that how can I watch regionally restricted videos on YouTube.
But, yesterday I was reading the news online on Dainik Bhaskar and suddenly spotted on an article about watching the regionally blocked videos on YouTube. I tried the method and that really worked!
How simple it was! Really fantastic and very – very easy. So, if you're watching a video on YouTube but unfortunately it is not available in your country, by making a little change in the URL of video, you can make it accessible or watchable.
MORE YOUTUBE TIPS:
Bypass the Regional Restriction on YouTube Videos
Here's how I bypassed the regional restriction on YouTube videos that were not available for my country. Most probably when a video is not available in your country will show you the error message "The uploader has not make the video available in your country", just like as the following picture.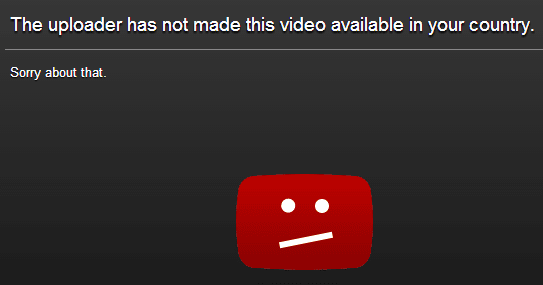 But, honestly you don't need to worry about that. Just have a look on the URL of the video and make a little change in URL by reading the following steps:
For example, the URL of video may be look like – www.youtube.com/watch?v=wYxYWzrp_Ug
Now, you just need to change it into – www.youtube.com/v/wYxYWzrp_Ug.
READ ALSO: How to Type in Your Regional Language With Keyboard
In the above steps, I just replaced the part watch?v= of URL into v/ and the new URL is created. I hope this modified URL will break down the regional restrictions on the video and will enable you to watch it even when it is not available in your country.