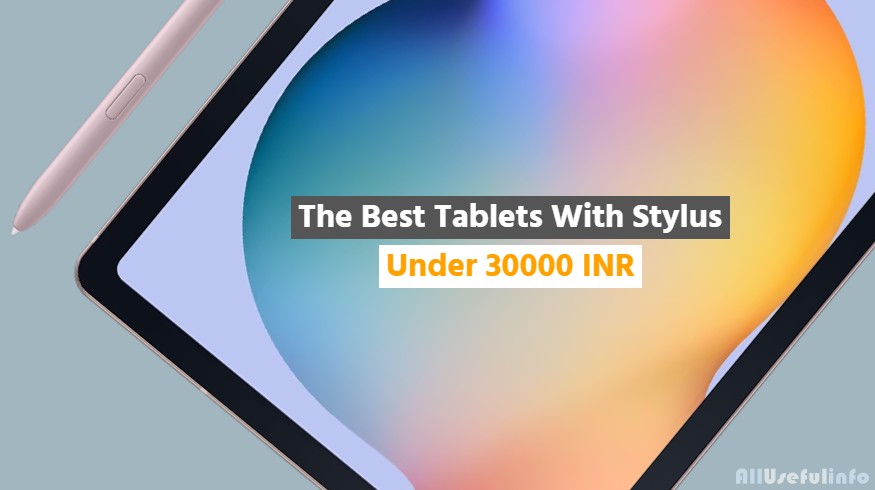 Tablets are a fantastic portable alternative to laptops. Whether a professional or a student, tablets have made our lives easier. With growing technological advancement and its use, you can now easily afford a tablet with a stylus under 30000 rupees. Tablets with a stylus make it very easy to take notes, type, or surf. It is as effortless as using a pen on a notepad.
Usually, the tablets that come with a stylus are in a higher price range. But some companies also offer them at an affordable price. Let's look at some of the best tablets with stylus under Rs 30,000.
1. Realme Pad X 5G
The Realme Pad X 5G tablet is an excellent tablet and one of India's premium Android tablets. Its screen display is large and has a flat frame. Its sleek design and glittery finish are on the lines of the iPad Air 2022.
The LCD offers a great multimedia experience, with almost no color shift while viewing from various angles. It offers excellent multitasking and gaming experience due to its Snapdragon processor and screen size of 10.95 inches.
It supports both WiFi and Bluetooth connectivity. Its 'Limelight' feature keeps you in the middle of the frame even when you are moving during video calls. This tablet does not come with a stylus but supports it.
You need to separately buy the Realme Pencil Stylus for this tablet and attach it on the right side of the tablet. You can also separately buy a keyboard to work with this tablet.
Price: 26999 INR.
2. Nokia T21 Tablet
The Nokia T21 Tablet is one of the most budget-friendly tablets in India. It has 4GB RAM and 64GB storage capacity. It comes in two variants; only WiFi and WiFi+LTE. This tablet comes with impressive features, a robust processor, and Operating System.
The design is of premium quality and comfortable to hold. There is no lag during games, watching videos, or shifting between different windows. The screen size is 10.3 inches.
The screen has a decent level of brightness and maintains good legibility while working. It supports Active Pen Technology for drawing and writing purposes. But, it does not come with a pen.
Price: 17499 INR.
3. Xiaomi Mi Pad 5
This tablet by Xiamoi is an excellent purchase in the mid-range section of tablets. Its metal frame has flat sides and a glass screen of size 10.9 inches. It gives a premium look but weighs a bit more heavily than other tablets. This tablet is available only on WiFi and does not support 4G/5G cellular data.
This tablet has great customization for the users, and its menu and dock are inspired by macOS. Its processor is powerful and gives a fluid-like experience while working on it. The LCD is Dolby Vision Certified and offers appropriate sharpness. This tablet supports a Stylus and needs to be bought separately.
Price: 28999 INR.
4. Lenovo Tab M10 FHD Plus with Stylus
This Lenovo tablet is everything that you can ask for under 30000 rupees. Its resolution display is fine and sharp and offers a great user experience. It can easily handle all your daily tasks and games, owing to its fast processor and 4GB RAM.
Its screen size is 10.3 inches. All the gamers out there will have a superb experience playing on this tablet. Moreover, its 128GB storage is expandable to 2TB.
It offers both LTE and Wifi connections. The box also contains a Bluetooth-enabled Active Pen (stylus) that gives a feeling of writing on paper. It reacts differently to a different pressure, thus giving the best user experience.
Price: 17999 INR.
5. Samsung Galaxy Tab S6 Lite
Samsung tabs are ruling the market owing to their functions, quality, and user experience. This Samsung tablet has a high-speed and well-performing processor, developed by Samsung itself.
It is an ideal tablet for video/photo editing, gaming, movies, etc. as its screen size is 10.4 inches. Its 4GB RAM offers great multitasking and has an internal storage of 64GB, expandable to 1TB.
It supports both LTE and Wifi connectivity. The screen display is crisp and sharp, ideal for movies and games. The S Pen with this tablet enhances the user experience by offering smooth notes taking, drawing, etc.
Price: 29999 INR.
6. Apple iPad 10.2
Apple is a premium brand owing to its excellent looks, user experience, and technology. The Apple iPad 10.2 is one of the best tablets under Rs 30,000, for people who wish to enjoy some of the Apple features but at a low price tag.
It is versatile, powerful, and designed for anything you love to do; play, work, create, connect, etc. Its Retina display lets you work with precision and enjoy the movie in full colors, on a screen of 10.2 inches.
This tablet supports both Smart Keyboard and Apple Pencil, to offer a laptop-type comfort and experience. It supports both Wifi and 4G LTE. The Centre Stage feature keeps you in the center during video calls, even if you are moving.
Price: 30900 INR.
Conclusion
Having a stylus with a tablet helps to keep the screen clean, and offers a blemish-free clicking experience. They give the feel and comfort of using an actual pen. A few tablets that come with a stylus are priced under Rs 30000, as discussed above, others support a stylus but that needs to be bought separately. But, all these offer great features, fast processors, sharp displays, and a superb user experience.