A Launcher is a program that helps users to find, start new programs, and store them in one place to launch them quickly. An Android launcher does many tasks such as customize the home screen, launch mobile apps, and more to supercharge your Android smartphone.
So, today I've come up with the top 5 free launcher apps for your Android which will definitely speed up and supercharge your Android phone.
Find a Best Launcher App For Your Android Phone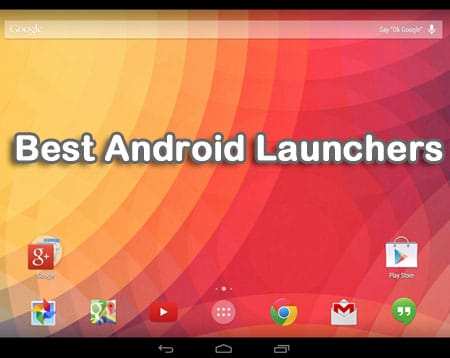 Now, its time to find out the best and superb launcher for your Android device. So, move on to the list of top 5 free launchers Android apps on Google Play to supercharge your phone:
Nova Launcher is a highly customizable, performance-driven, transparent, and most flexible launcher for your Android smartphone. It enables you to replace the home screen for Android 4.0+ versions. Nova Launcher is the original and most polished customizable launcher for Android. It provides awesome features for its users. Some of them are the following:
Change the accent color of the launcher with full-color picker support
Apply ADW or Go launcher icon themes to all app icons
Keep all your favorite apps on the dock, with up to 7 icons per page and up to 3 pages
Enjoy eye candy when scrolling your desktop and drawer
You can choose a background, preview style, or even replace the whole icon
More and more.
It's paid version "Nova Launcher Prime" is also available on the Android market which unlocks the other important features in Nova Launcher.
Microsoft Launcher is launched by Microsoft Corporation itself and also free of cost. It provides a new home screen experience that empowers you to be more productive on your Android device. It also has several key features such as:
Customization icons to give your phone a consistent look and feel
Beautiful wallpapers from Bing every day
Dark theme is provided by Microsoft launcher
It loads faster and uses less memory.
The launcher is a fantastic choice and never makes you bore. So, you can very faithfully install this Microsoft's own Android launcher on your Android device.
POCO Launcher is a fast and lightweight launched designed especially for Android phones. Its high performance and attractive design will give your device an impressive boost. With POCO Launcher, you can play with your screen wallpapers, themes, and animations to personalize your device according to you.
Awesome Features of POCO Launcher:
Minimalist design by keeping the Home screen neat and clean
Resize the Home screen layout and app icons
Apply customized wallpapers, themes, and animations
Use third party icon packs to give your device a new look
Keep your apps private by hiding their icons
Optimized for breakneck speeds
More..
So, install POCO Launcher – the best & free Android launcher. Be careful about its supporting versions that are 5.0 and up. It means it supports only in Android version 5.0 and up.
Action Launcher looks and feels like a natural launching pad for the Android ecosystem, and is designed to get you where you need to go, faster. One of the most wanted features of this launcher is that Action Launcher allows you to import from your existing layout from other launchers such as Apex, Nova, Google Launcher, Sense, TouchWiz, and the stock Android launcher, so you'll instantly feel right at home.
Other Main Features are as following:
A sliding Quickdrawer for instant access to all your apps and widgets
Full tablet support
Strong Play Store integration
Layouts can be backed up and restored to and from an SD card
Provides an innovative new way to quickly launch apps and shortcuts
More..
It's paid version is also available on Google Plus and known as Action Launcher Pro. When you'll click on the above link, then you will also find its pro version in More From Developer section.
5. Apex Launcher
Apex Launcher helps you create a customized home screen experience on your Android (4.0+) device. It's another feature-rich Android launcher to supercharge your Android device. Some of the most beloved and demanded features of this launcher are the following:
Customizable home screen grid size and up to 9 home screens
Scrollable dock with up to 7 icons per page and up to 5 pages
Customizable icons and labels for shortcuts and folders
Lock your desktop to prevent accidental changes
Optimized for both phones and tablets
Hide apps from the drawer
Drawer apps sorting (title, install date, mostly used)
And More Customizing options
Apex Launcher is also a widely used Android launcher. Its pro version is also available in the Android market which unlocks the other significant features of this launcher.
Read Also: Best Launchers to Turn Android into iPhone
All the above Android apps are must-have for your Android device. These best Android launchers will really supercharge your smartphone and provide a customized and easy to use look to your Android phone/tablet.