We have always seen the blind & visually impaired people taking help out of Braille, reading glasses, walking stick, guide dog and many more. But it is really tough for them to carry such bulky equipments. So now, in the today's digital world, Android app developers have developed such apps that are extremely useful for the blind & visually impaired people. And I think the below listed apps must be installed in the handset of all blind & visually impaired people to make their life easier.
These 5 must have apps for the blind & visually impaired people will help them out in different working field like for navigation, for enlarging small text, to interact with the handset and many more like this.
Android Apps For Blind & Visually Impaired People
Here's the list of 5 great and very useful Android apps for visually impaired people. You can know about these apps here and provide them to those people who are unfortunately visually impaired or blind.
The first app that I am going to introduce in my today's list of best Android apps for blind and visually impaired people is 'Google Talkback'. The reason behind this is that Google Talkback is an app that permits blind and vision-impaired people to easily interact with their Android smartphone. Therefore, I think that this is the foremost thing that should be installed in the smartphone of blind & visually impaired people.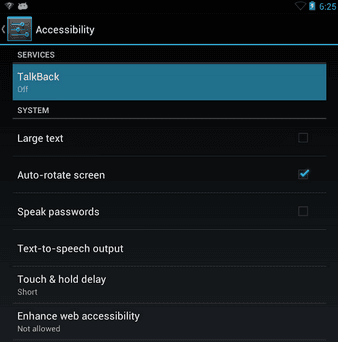 Through this ultimate app when any blind or visually impaired people touch or click on any icon displayed on the device then this app speak it out. So that the user could know that which action is being performed by him/her on the smartphone. Isn't it very necessary!
Beside blinds, the next app is only for the one who has week eyesight and feels difficult to read small text or font. The belonging app converts your Android smartphone in a magnifier and helps you to enlarge the small font displayed on bills, products, newspaper etc.
The app not only magnifies thing but also contains flashlight through which, you can easily read the text in low or no light. This is an innovative app for visually impaired people. The app also supports basic gestures onscreen like double-tap to zoom in or out, single tap to focus, and long-press for turning the light on or off.
After Google Talkback and Magnify, the next app which I am going to introduce is "Ideal Accessible App Installer". It sound interest isn't it. Likewise its name, the app is also very useful. It is an app through which, the user can easily install ideal group of applications that are accessible, useful, educational, and entertaining for everyone, including the blind and visually impaired people.
In fact, this installer contains packages of applications for blind or visually impaired people that will help them thoroughly while operating their mobile phones. The app featured with all-in-one installer that contains TalkBack, KickBack, and SoundBack (TKS) applications.
Ray eBook Reader
Ray eBook Reader is a free app basically built for the blind or visually impaired people who love reading books and magazines, due to the reason that the app is an open source of audio book library. RAY Audio Book Library Application is a fully accessible eBook reader application and is cloud service designed to provide visually impaired and blind users with free access to publicly available audio books.
Some of the most lovable features of this app are touch-screen based inputs using finger gestures, automatic backup and restore of all system functions, connecting directly to online library services and more.
Note: This app is now no more available in Google Play Store.
WalkyTalky
The last app that I have compiled in my today's list of  Android apps for blind & visually impaired people is 'Walky Talky'. I think this is the most useful app for the eye victim patient. For the reason that this app is going to help the blind and visually impaired people is navigation.
The app carries an exceptional navigation that helps blind people with visual impairment navigate the streets. The app runs on the built in compass and always point out to the right direction. If by chance you move to a wrong direction then your handset will start vibrating. The app periodically updates the status bar with your current location to the nearest street address.
More Android Apps:
Conclusion
So, these Android apps will be proven very helpful for blind and visually impaired people. Google Talkback for speech passwords and text, Magnify app for visually impaired people, Ray eBook Reader to listen eBooks in audio formats and Walky Talky for navigation. Isn't these apps are great and most essential for blind people!