Do you know how I got the idea of writing this article today? Actually, today's morning I was chatting with my friend on WhatsApp and he was sending me some web links to check but as you know each web link open in web browser so I was having a great problem of opening and closing the browser again and again. And suddenly I focused toward Facebook messenger floating chat heads and the idea of floating browser apps came in my mind. And as soon as I searched on Google Play I found some floating browser Android apps and tried all of them on my android phone.
So, in this article I'm disclosing 3 best and free floating browsers for your Android smartphone. With the help of floating browsers, you won't need to leave your current task and it will load all your links and articles in background that can be viewed easily without leaving your current app with the help of floating browsing head.
Now, have a look on the following floating browser Android apps that I liked the most.
3 Free Floating Browser Apps for Android Phone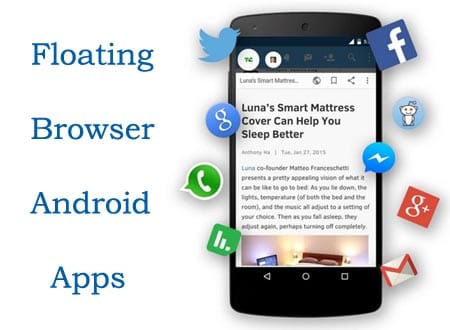 It is one of the most popular floating browser application for Android smartphones. Flynx helps you open articles and links from all your favorite apps like Facebook, Twitter, WhatsApp, Google+, etc. without leaving the application.
One more reason for loving it is that it lets you save articles to read later and even offline. Additionally, it has been translated into over 15 languages including Arabic, Brazilian, Chinese, French, German, Japanese and Spanish.
It is another floating browser application for Android smartphones. Its powerful floating feature allows you to use window concept as the browser. You can zoom in and drag windows anytime you want.
It has many features such as Tab pages, Integrated System Bookmarks, Quick Search, and more. Moreover, you can resize the floating window and move it anywhere across the screen. It's it the cool floating browser application?
COBRA is small window based lightweight floating browser and only takes up a small area of your screen. It is also available for Android 5.0 Lollipop operating system.
This floating browser app for Android offers many interesting features such as Multi Window without limit, Screen Capture, Share screen capture, Share URL, Multi Task, and more.
Further Reading:
I found these 3 free floating browsers for Android very rarely on Google Play Store and I think you all will like them. I mostly prefer Flynx browser for my Android device. Moreover, if you know any other floating browser application, feel free to mention in comments.