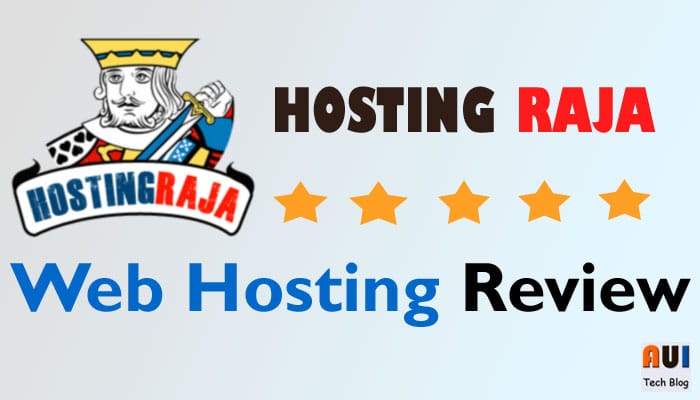 Whether you're planning to start your new website or just thinking to shift the one to any other web host, it's very important to keep enough details about the web hosting company.
I along with time reviewed many web hosting companies such as KnownHost, Bluehost, Hostgator etc. and today it's time to introduce you with India's leading cost-effective web hosting company i.e, Hosting Raja.
There are many things we should consider while choosing a web hosting company such as pricing, tech support, comfortable control panel, and more. By having these things in mind, I'm going to tell you if Hosting Raja is worth-choosing web web hosting company or not.
Must Read: 5 Tips For Choosing a Best Web Hosting Service
Hosting Raja Review: Is it the Right Web Host?
Hosting Raja is India's one of the best web hosting companies with many outstanding features. If you're thinking to host your website with Hosting Raja, the very first questions might be revolving in your mind that "is it the right or trustworthy web hosting company?".
So, read out this Hosting Raja review carefully by considering the points I'm discussing below in this post, I'm sure you'll be able to take the right decision out of it.
The Most Affordable Pricing
It's our tendency we always compare pricing in order to get the most affordable deal. There're many web hosting companies available in India claims to provide the cheapest hosting services but honestly most of them don't stand the test of their words.
But, truly Hosting Raja is India's most affordable web hosting company without any hidden fees, setup fees or extra payments.
It lets you start your new website at very affordable hosting cost. Starting from only Rs 99/month for starting websites, it has many other popular plans for high traffic websites, all at very affordable pricing.
Multilingual Technical Support
Technical support is the most important factor we always consider before choosing a web hosting service. You must have enough information about company's technical support because anytime you might be in the need of quick support from the company in critical time of your website.
There are different support options web hosting companies offer such as live chat, phone support and email or ticket support, where the live chat and phone support are the best support options as they helps you quickly fix the issues by frequently talking with the representative.
You'll be glad to know that Hosting Raja provides all of these three support options. You can either chat with their support representative via live chat option, contact support by end to end phone conversation for more quicker solution or send email (ticket submission) to the support team.
There are very few web hosting companies that provide multilingual support. But, this is the USP of the support of Hosting Raja as they deliver support in many languages such as English, Hindi, Marathi and more.
Specialized in Different Kind of Hosting
Hosting Raja offers different kind of web hosting servers and plans. Along with the shared hosting plans, it also offers fully managed VPS hosting with most affordable pricing.
There are very few web hosting companies that offer cloud hosting services, and Hosting Raja is one of them. Its cloud hosting plans are also fully managed and performance-tuned.
Other than this, Hosting Raja also specializes in different CMS specific hosting such as Joomla Hosting, WordPress Hosting, Magento Hosting etc.
Latest cPanel with File Manager & phpMyAdmin
Different web hosting companies provide different user interfaces but cPanel is one of the easiest and popular one. So, it's also a worth considering factor to ensure whether the web host provide cPanel or not.
cPanel makes most of the tasks easy such as installing WordPress, setting up email, setting up FTP accounts, managing your database and many more.
Most of the web hosts take the extra amount for including cPanel in your hosting package but with HostingRaja you'll get it absolutely free.
Read Next: Most Trusted Web Hosting Companies in India
The Verdict
On seeing the outstanding features (affordable pricing, good tech support, cPanel etc.) above mentioned in detail, it's all clear that Hosting Raja is undoubtedly India's no.1 web hosting company.
The most important thing to consider in every web hosting company is its customer support, in fact the support options, and Hosting Raja provides support by all kind of support options (via chat, phone and email).
Another special thing in Hosting Raja is its multilingual support. So, don't worry of the language problems, Hosting Raja will deliver the best support in your regional language.
So, if you're looking for an Indian web hosting company, Hosting Raja is truly the best hosting solution for every kind of blog or website.
What are you waiting for now? Sign up for a Hosting Raja plan today! Also, share your experience with Hosting Raja that how much you're satisfied with their services.