If you give lots of importance to your computer screen and desktop background, then you can create your own theme in Windows 7 PC by changing the desktop background, window border color, sounds, and screen saver that suits your style.
So, creating a unique theme for your Windows 7 desktop is very easy. Just read out this article carefully to learn how to create your own Windows 7 theme!
Lets See, How To Create Your Own Theme
Now, I'm going to provide the steps to create your own unique theme for your Windows 7 desktop. So, read carefully the following steps and a unique theme for Windows 7 PC will be created in a few seconds!
STEP 1: Firstly right click on your desktop and select Personalization.
STEP 2: Now, click a theme to apply it to your desktop and lets change one or more of the following to make that theme unique which can not be found any where:
Desktop Background: First thing that can make great changes in your Windows theme is your desktop background. So, use your own and unique pictures as the desktop background to look your theme a unique one.
To change the background, click Desktop Background, browse to the pictures you want to use, select the check boxes for the pictures that you want to include in your slide show, and then click Save changes.
Border Color
To change the color of your window borders, taskbar, and Start menu, click Window Color, pick the color that you want to use, adjust the color intensity, and then click Save changes.
The Screensaver and Sounds
To provide an amazing uniqueness to your Windows theme, you can also change screensaver and different attractive sounds. You can simply change the sounds you hear by clicking on Sound and select a Sound Scheme and then click OK to make changes.
Similarly, you can add or change a screen saver by clicking Screen Saver, click an item in the Screen saver list, change any settings to suit your preference, and then click OK.
That's all, your new theme will appear under My Themes as an unsaved theme. If you want to save your own created theme, then read continue the article.
Save your Own Windows 7 Theme
To save theme in Windows 7, right click on your desktop and visit Personalization in control panel. Here under My Themes section right click on your theme and click on Save Theme.
Now, give a name to your theme and click on Save Changes.
Delete the Theme
For any reason if you wanna delete an existing Windows 7 theme, then the first thing you have to do is to apply another theme to your desktop because a currently running theme can not be deleted. After that, right click on any theme you want to delete and click on delete theme.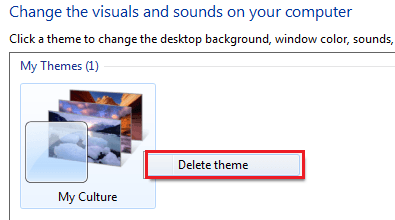 On thing that should be noticed here that the theme that come with Windows can't be deleted anyhow. So, the only themes you have created or downloaded can be deleted.
More Stuff for Windows 7 Users:
So, using this article you'll be able to create your own unique Windows 7 theme to impress your friends and colleagues. If you're feeling any problem in following this article, you can freely speak your mind in our commenting system.