I seen many users asking how to delete their Skype chat history while using it on Android mobile. Most of the readers of All Useful Info asked the same question, and even I seen this issue unsolved on many forums. So, to short out this problem, I just created this short guide on how to delete Skype chat history from Android phone.
However, I don't use Skype app on my Android phone but just to find out the solution of this common problem I installed it and luckily found the way to clear all the Skype chat history of particular contact.
Honestly, me too searched for the solution on the web and found many but none of them didn't actually worked for me. So, in this post I'm sharing the original method for delete Skype chat history from Android, which is also tested by me many times.
Here's How to Delete Skype Chat History from Android
Honestly I gone through many experiments to try deleting the Skype chat history from my Android phone and one of those methods worked perfectly for me; here's the same I'm sharing with you.
So, delete the chat conversation of any Skype contact, just select the contact (by tap and hold) and tap on Delete icon and then in the popup screen again tap on Delete option as shown in the following screenshot.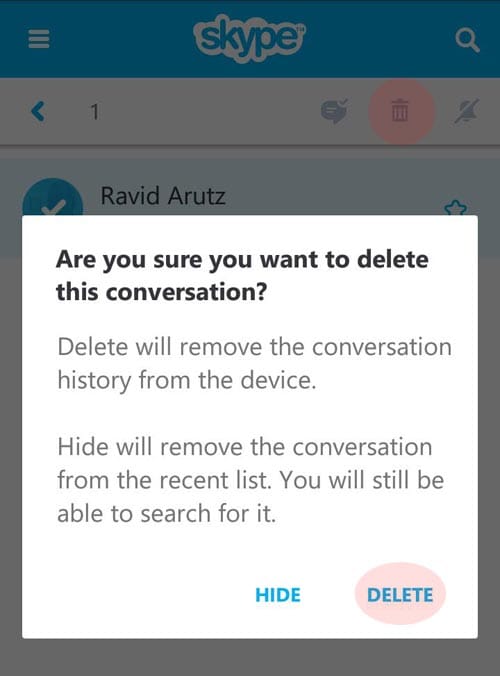 This will delete the whole chat history of the selected Skype contact. Isn't it easy?
Note: For accomplishing this task I was using Skype version 6.14.0.665. So, in case you're not able to perform this task at your end, make sure you're using the same or latest Skype version.
Clearing the Overall Cache May also Help
As I told you I tried any experiments for deleting the chat history and clearing the phone cache was also one of the experiment. However, it didn't worked perfectly but still after clearing the phone cache most of the Skype chat messages was deleted automatically (but not the all).
So, for any reason if you're not able to apply the above method, you can get the task done by clearing your Android phone cache. You can read out this guide to learn how to clear whole Android phone cache easily.
More Articles For You: