It is impossible everybody to stay connected with Internet all the time. So, if you don't want to leave alone your Facebook for a single minute, then article will be proven helpful for you. Because in this article, I'm going to tell you that how can you get Facebook notifications and messages on mobile phone via SMS service and there is no Internet required.
It means whenever somebody messages you on Facebook, likes or comments on your photo or performs any activity connected with you then you'll be notified via mobile SMS about that activity so that you can instantly open Facebook to check out about that.
How to Activate Text Messaging For Facebook
Now, look at the following steps to learn how to activate text messaging to get Facebook notifications and messages on mobile phone via SMS and even it is not necessary to stay connected with Internet or even no Internet is required for this service.
So, learn from these steps – how to get Facebook notifications and messages on mobile via SMS:
STEP 1: Visit https://facebook.com/settings and log in to your Facebook account.
STEP 2: Now, you'll reach at the General Account Settings page. Here, click on Mobile as shown in the following picture.
STEP 3: In this step, add a phone number and verify it or simply click on Activate Text Messaging button if you already added a phone number.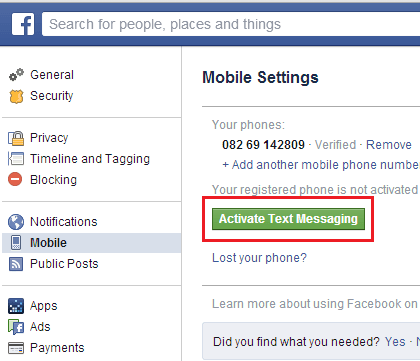 STEP 4: In this step, a popup box will be shown in front of you. Here, select your country and mobile carrier and then click on Next.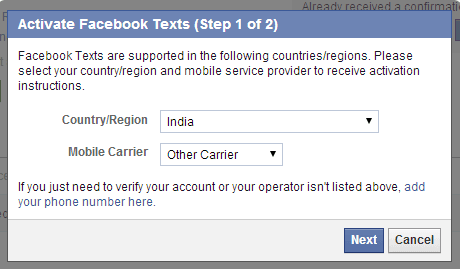 STEP 5: Now as directed in the next popup box, you have to send text letter F to the given recipient number and then you'll receive a message in your phone inbox with confirmation code. Enter this confirmation code in the given field in the popup.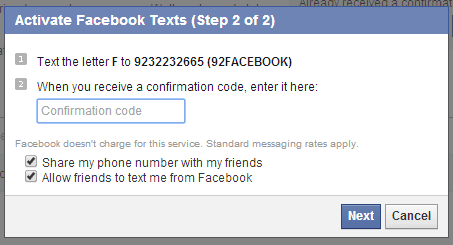 Further Reading:
That's all, as soon as you enter the confirmation code in the above shown field, the text messaging for Facebook will be activated instantly. So, after that you'll get notifications and messages directly on your mobile phone via text SMS. So, no need to stay connected with Facebook 24×7 and on receiving any notification or messages, just open Facebook and check them out and save your time and money too.