Integrating Google Analytics and Adsense account can help you get more insights about your website traffic and revenue. The biggest benefit of integrating Google Analytics with Adsense is that you will then be able to know that how much revenue is generated by any specific page. And it's the most important thing for every Adsense publisher.
But, what if your Analytics and Adsense are on two different Google accounts? Actually, I'm using Google Analytics and Adsense on two different Google accounts. And due to this, I wasted my most time in finding how to integrate both of them.
Even for an instance I also thought to delete my existing Analytics account and create a new one on the same Google account that's being used for Adsense.
But, finally after keep on searching the solution, I found a way to integrate two different Google Analytics and Adsense accounts, and realized how easy it is!
Here's How to Integrate Google Analytics with a Different Google Adsense Account
It's very simple to link Google Analytics with a different Google Adsense account. All you need to give account permissions to your Google Account that is being used for Adsense from your separate Analytics account.
So, just login to your Google Analytics account first and by navigating through Admin tab click on User Management option in Account section. Here you'll be needed to enter your Google Account that's being used for Adsense and give all the permissions as shown in the following screenshot.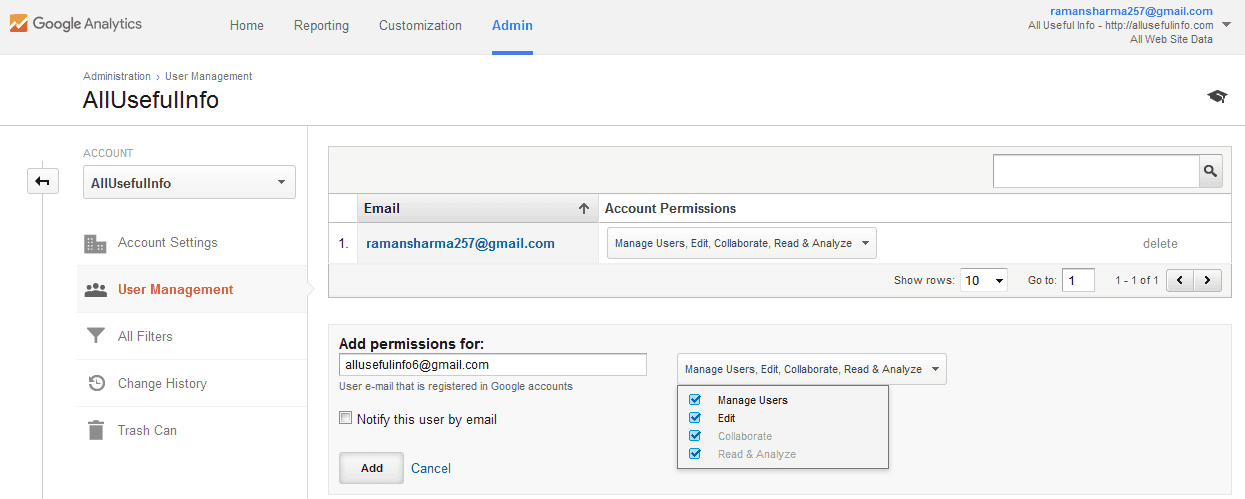 By allowing permissions for your Google account that's being used for Adsense, you're almost done. I think it's completely done! In fact, now logout to your Analytics account and then login to Adsense with your Google account that you recently added in the Analytics.
In the Google Adsense dashboard homepage you'll see a link 'Integrate with Google Analytics'. Just click on it and you'll see that your Analytics account is now linked with Adsense, even when both of them are on different Google accounts.
That's all. Now, you can anytime view the Analytics reports directly from your Google Adsense dashboard just by clicking on this Analytics account linked in your Adsense account.
Must Read: How to Earn More With Responsive Adsense Ads
So, isn't it easy to integrate two different Google Adsense and Analytics accounts altogether? Let me know your thoughts on this post.
I think there's nothing special to do but still if you feel any problem in linking your Google Analytics to a different Google Adsense account, let me know via comments. May be I could further help you. 🙂