Sometimes annoying people follow you. And unless you block them, there's no way to restrict people from following you on social media networks like Twitter, Instagram, etc. Anybody can follow you on social media but if you don't want someone as your follower, you can remove them.
Blocking is the best way to remove a follower from your account. But, if you don't want to completely block the person but just willing to remove as a follower from your account, it's also possible.
Unlike Instagram, Twitter doesn't have a direct feature to do so but it doesn't mean you cannot remove Twitter followers without blocking. You can still make it possible. All you need to follow a simple trick to remove a Twitter follower from your account without blocking the person.
Here's How to Remove Twitter Followers Without Blocking
When you block someone on Twitter, it simply means the blocked person will be prohibited from any kind of interaction with you on the platform. So, for any reason, if you don't want to block the person on Twitter but just remove as a follower, it's possible with a simple trick. Find it out below:
Open Twitter and login to your account. Now open the profile of that follower whom you want to remove.
Now click on the three dots icon and click Block @username.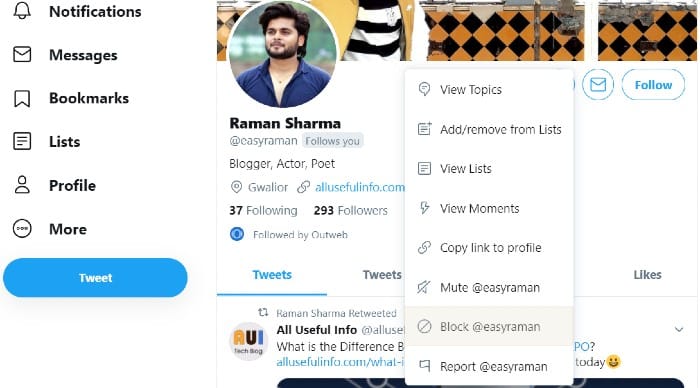 Don't worry, do it as described. This will block that person completely but it's not now over. Just a few more steps and you will be done. As soon as you will block the person, a Blocked button will be visible by replacing the Follow button.
When you hover the mouse over the Blocked button, it will show you the Unblock option. Just click it.
As soon as you'll unblock the person, he/she will automatically be removed as a follower from your account.
That's all. This is how you can remove any of your Twitter followers without keeping them blocked forever. But, you need to remember that you can never restrict that person to follow you again. Any of your removed followers can refollow you anytime until you block them.
Read Next: What is Twitter Blocking & Muting? How to Block & Mute Twitter Accounts?