As we all know that Facebook is a wide community of business, entertainment and many other type of pages and people. Many people also use Facebook as a free medium to promote their business by create free pages on Facebook. But if your business page or any other page is not getting enough likes, then you can promote it by using Facebook ads services.
Yes friends, you can promote your page by paying some amount of money to Facebook. In this article, I will provide you complete procedure about how to start promoting Facebook page to get instant likes.
Required Things For Promoting Page
If you're going to promote your Facebook page, you must have any of them (For Indians):
OR
An International Debit Card For International Payment
At the time of making payment, you can use whether the credit card or international debit card. Your other normal visa card or normal debit card won't work for payment to Facebook. If you're going to payment with debut card, then make sure that your debit card must be international.
Steps To Promote Facebook Page
Now, without taking your more time, I'm going to start the step wise procedure for promoting your Facebook page.
STEP #1: Log into your Facebook page and click on Built Audience drop down menu and select Promote Page.
STEP #2: In this step, you've to select your location (country), some interested keywords for your blog, Age group and the most important thing is budget.
It means how much daily budget you want to spend on your page promotion. You can select daily budget according to you. Finally you can schedule ad for a fix amount of time and then click on Promote Page.
STEP #3: Now, in the next popup box, click on continue as shown in the following picture.
STEP #4: Finally, you just need to enter your credit/international debit card information and that's all.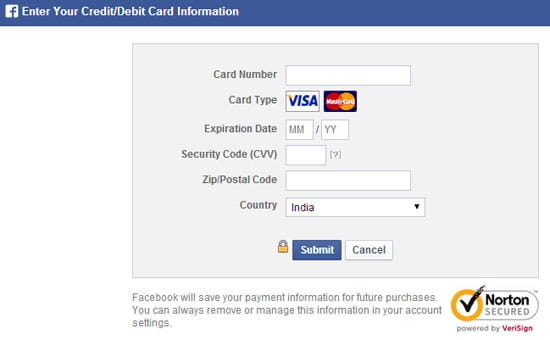 USEFUL POSTS FOR YOU:
So, after entering your correct card information your ad will start in a few seconds or minutes and you'll experience that how efficiently your likes will increase. Another thing is that as much as you use the daily budget, your likes will grow up as frequently. I also used first time Facebook promotion with Rs 304 per day budget and got the average of 90 – 100 likes per day by ad set of Facebook.