A driver is software used by the operating system to communicate with a specific hardware device. Graphics drivers in laptops and computers are used to communicate with specific graphics devices.
Most of the new programs you install on your computer need an updated graphics driver to run perfectly. So, if your Windows graphics card is not updated to the latest version, this article will help you do so. In this article, I will guide you on how to update your Windows 10/8/7 graphics driver easily.
A few days back, when I installed Microsoft .Net Framework on my computer, it denied working on my computer because of the older version of the graphics driver installed on my Windows computer. And the same thing happened when I installed a new game on my computer.

So, if you're also facing any graphics-related problem on your computer such as visual corruption when playing a new game or running a new software program, most likely you're running the older version of the graphics driver.
Whether you're using Windows 7, Windows 8, or Windows 10 computers, in such situations, you can very easily update your graphics driver in seconds. The process of updating the graphics driver in Windows 7, Windows 8, or 10 is absolutely the same.
Here's How to Easily Update Graphics Driver in Windows
There're two easy methods to update the graphics driver on a Windows computer. Let me discuss each of them one by one.
Method #1. Update Graphics Driver From Device Manager
You can directly update the graphics driver through the device manager of your Windows computer. To do so, you need to open Device Manager from Control Panel.
In the Device Manager window, look for Display Adapters, double-click it and it will show you the graphics driver installed in your Windows computer. Now, you need to right-click on it and then click the Update Driver Software option.
Now, if you've already downloaded the newer version of the graphics driver from the web on your computer, click Browse my Computer for Driver Software or if you want your Windows computer to do it automatically for you, choose the Search Automatically for Updated Driver Software option.
This is how you can easily update your graphics card on your Windows computer regardless of which version you're using.

Method #2. Update Graphics Card From Display Settings
If you're not able to find any graphics driver in Device Manager, you can check the driver through Display settings and also update it to the latest version. First of all, Right-click on your desktop and click Screen Resolution.
Now, click Advanced Settings. Here, in the Adapter tab, click on the Properties button which will through a popup with your graphics driver properties.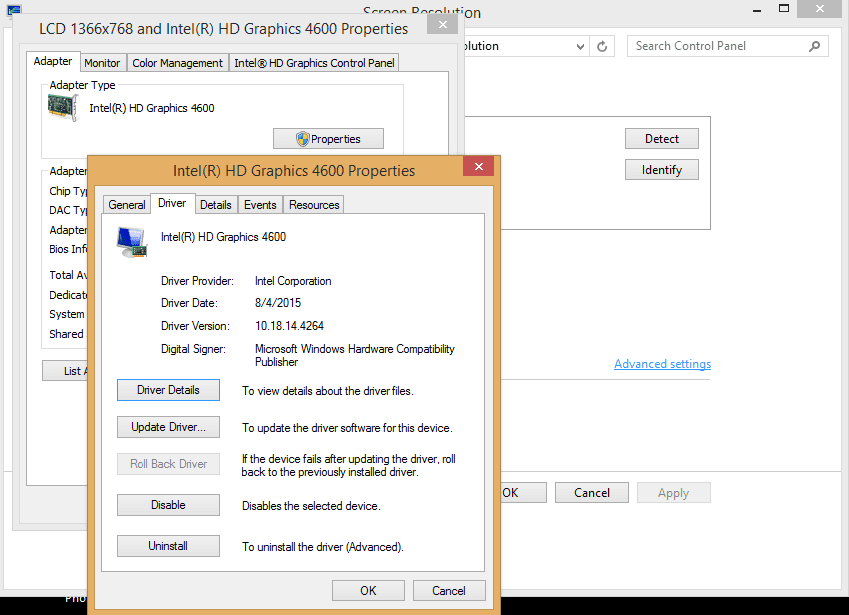 In this popup, as soon as you'll click the Update Driver button, again the same process of updating the graphics driver will begin where you'll have two options to update the driver; automatically or manually depending upon your choice.
This is all about updating your graphics driver on your Windows computer. Do share this post with your friends on social media and ask us your queries via comments.