If you started a new company which provides any type of service to clients and to receive payments online then you may need to send invoice message for payments to your clients. But, when you're at the starting phase, you may not know about generating invoices. So, you you shouldn't worry as there are many websites that will let you create invoice PDF online absolutely free.
These websites will help you in such a manner that even you don't have any type of knowledge about invoices but still you can create awesome invoice PDFs very simply and perfectly free of cost.
Websites To Create Invoice PDF Online For Free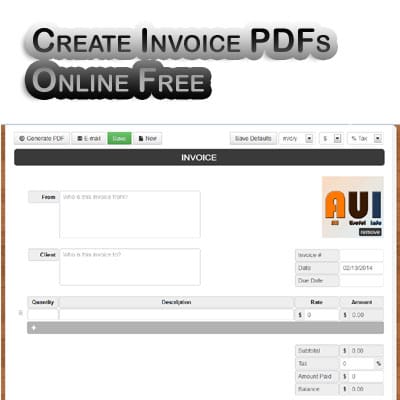 Now, without spending more time, I just move on the list of top 10 websites to create invoice PDF online for free. Have a look:
It is very easy to create your own invoice PDF free of cost through this site. This website provides you a well made module for invoice. Yes guys, as you enter the site, you'll see a ready made invoice module. Just enter your details by replacing the pre-written terms.
I'm sure that after opening that site you won't go anywhere else and feel that it's very easy to generate an invoice. So, after your invoice is completed, simply click on Get PDF button and save your created invoice PDF file on your computer to send it to your customers.
This is another free invoice generator which provides you very easy and feature rich platform to create invoice PDF. You only need to fill the details such as your name, client's name, product and prices etc. You can also upload logo of your company. After you've done then click on Generate PDF and save the file.
This website also enables you to send your invoice directly to your client's email. If you want to send invoice directly to client's email, then just select E-mail and fill out the fields together with watching the preview.
It provides very instant way to create online invoices. Visit the above link and click on Create your Invoice and select any template to create invoice. This online tool provides you several facilities such as multiple templates, set currency, set taxes, add discounts etc. You can also attach an image of your company logo.
Not only this but still there are much more features of this web tool include it enables you to directly send your created invoice, preview your invoice, or you can download your invoice in form of PDF.
Paydirt provides a great tool to create free invoices online. A single invoice template is provided at this site and there are several feature of this template such as it enables you to add invoice number etc. This web tool is also full of features include You can directly send your invoice to client's email, save invoice, print invoice, download invoice PDF and more. You can also add tax on your invoice document separately.
This link will take you on another invoice creator template where you can simple generate an invoice and even send it to your clients via email. This template is quite similar as Invoiceto.me web tool. So, just edit edit the fields by replacing the pre-written words and click on Get PDF to download you created invoice.
Further Reading:
These are the top 5 websites to create invoice PDF online for free. I hope you all will like this list and if so, then don't forget to share it to your social networks and freely put your thoughts about this article inside the comment box.