There is almost every mobile phone comes with the feature of call forwarding or call diversion which redirects the phone call to another destination. However, on having this feature in my smartphone, I would like to use a call forwarding Android app in my device. Do you know why? Because the call forwarding apps provide some extra features that your smartphone miss and the apps give a different experience for call forwarding.
In case of your phone, if you enable call forwarding, it start forwarding the selected number always but the following apps have different features such as forward call based on location (when you forget phone at home or office) or when your phone battery is discharged etc.
There are lots of call forwarding Android apps available on Google Play Store and a few of them I'm going to mention in this article. I hope you will like to install then in your device for call forwarding and diverting.
6 Free Call Forwarding Android Apps
Google Play has the both free and premium apps for different purpose. Same here, there are lots of free and paid call forwarding Android apps available on Google Play Store, but you don't need to worry if you're looking for a best free call forwarding app, because through this article I only disclose the free Android apps for call forwarding. Happy? Lets see the list below!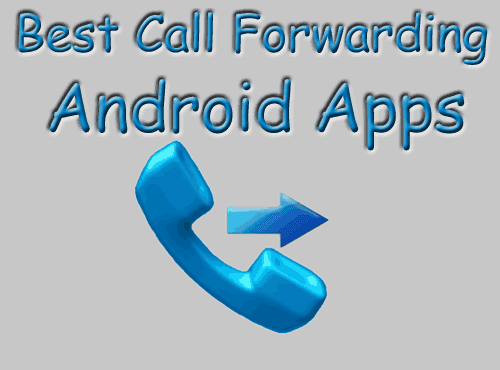 1. Smart Call Forwarding Lite
This Android app uses three basic modes – automatic call forwarding, manual call forwarding and call forwarding using SMS. Automatic call forwarding will forward your call automatically based on your current location. You come to office and your cell phone calls will be automatically forwarded to office phone. It will be the great benefit when you forget your phone at home or office.
2. RedirectCall
This is awesome and free call forwarding Android app that lets you simply activate and deactivate call forwarding, no matter using the widget or starting the application from the home screen.
This call forwarding Android app has lots of features such as – choose a phone number from a contact from your phone, history of the phone numbers you've entered, clear the phone number history and many more.
3. Last Call Forward
This app forwards your calls when your battery is discharged. Isn't it worth installing! Last Call Forward monitors your battery level, and if it drops bellow the defined level, it'll forward your calls to your second phone. Ideal for people that constantly forget to charge their phone.
4. Remote Call Divert
It is also a best Android call diverting app that will help you forward calls when you forget your phone at home or somewhere else like office.
The best thing about this app is that you can remotely forward call to another phone when you forget your phone at home or office. All you need to do is just send a text to your phone with a password and the phone you want to divert all your calls.
5. NFC Call Forwarding
NFC Call Divert application forwards all your future incoming calls to another phone number till you manually disable call forwarding or change the phone number to forward calls to from call settings.
6. Phone Forward Lite
It is another free call forwarding Android app that lets you forward incoming calls or SMS text messages through email or SMS.
With an activation code you can activate the forward notifications by sending an SMS to your phone, in the case you forgot your phone at home without activating the notifications.
Further Reading:
That's all guys! These are the best free call forwarding Android apps I ever found on Google Play. If you know any other free call forwarding app that I missed in this post, feel free to mention in the comment.