You would be noticed that till now I was using my personal email ([email protected]) for business purpose too because I didn't create any email address on my own domain but recently I was signed up with Google Apps for Work to setup a business email ([email protected]) on my own domain, but had a very shocking problem.
As soon as I tried to sign up for Gmail for work with my domain, I got the warning "This domain is already in use". I was just shocked that how somebody can use my domain without my permission. But, still I solved out the issue very quickly.
Via this article, I will tell you how you can sign up for Google Apps for Work account if you're seeing the message that your domain is already registered or being used by someone else.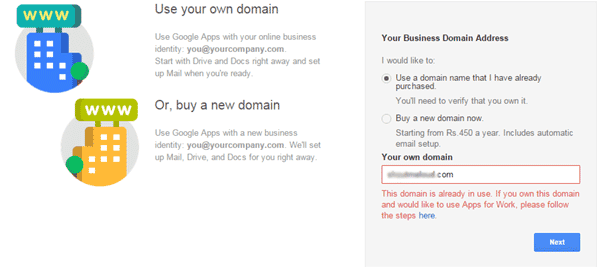 First of all, let me tell you that which steps you should take first if you're getting the message "Already registered". If these steps won't work, you will be needed to fill up a Google apps for work support form.
MUST READ: How to Create Email Account on Own Domain in cPanel
Steps to Take Yourself Before Contacting Support
It may be possible you was already registered this domain name with Google Apps for Work. So, try resetting the admin password with the help of secondary email address.
You would have used your domain as domain alias on another Google Apps account. So, remove the domain alias, and then sign up for a separate Google Apps account.
Did you recently delete your domain? It takes seven days for a deleted domain to leave Google Apps for Work system. You'll be able to sign up again once seven days have passed.
It may also possible that domain is already registered with another Google product, like Google Maps for Work.
In my case, I was not satisfied with any of the above statement because I never signed up for Google apps account before but still I was having this problem.
So, Lets know How I Resolved the Issue
When I found that my domain is being used by somebody else, I instantly contacted the Google Apps for Work support. How? By using a support form!
I just filled up with This Support Form and submitted it. It's very easy to submit, as the details asked in the form are very easy to provide (still if you've having problem to fill the form, you can ask me via comments).
After sometime a representative of Google Apps for Work support contacted me and asked to verify the ownership of the domain I wanting to register with Google Apps.
The representaive gave me two different methods for verification: either by creating CNAME record or uploading an HTML file. So, I just uploaded the HTML file to my domain and told them to verify.
That's how I verified the ownership of my domain. And after the domain verification, it took 4 to 5 days to delete the previous owner and then I could successfully registered the domain with my ownership and setup the account.
So, if you're having the same problem with Google Apps for Work, same procedure you can also try to free up your domain from Google Apps system and again register with your ownership.
ALSO CHECK: Best Email Hosting Services on Own Domain
Let me know via comments if you're having any problem in solving out the issue. I will try my best to suggest you what to do next.