Facebook text messaging is disturbing you and wanna deactivate this service but don't know how? So, read this article carefully to learn how to turn off Facebook text messaging on mobile.
Many times Facebook text messaging may be proven useful for Facebook users because in the absence of Internet, users can see the chat by others and even can replay them without having Internet connection in the phone. But still if you're getting disturbed by Facebook mobile text messaging, then this article will help you to turn off this service.
Turn Off Facebook Text Messaging on Mobile
Now, learn how to turn off or deactivate Facebook text messaging on mobile. Have a look on the following steps to deactivate this service.
Log into your Facebook and go to Settings. Or directly visit https://facebook.com/settings and log in with your Facebook account and password.
Now, click on Mobile. Under Mobile Settings, you'll see a mobile number on which the text is activated. You can either remove the number by Simply clicking on Remove button to turn off receiving notifications on your mobile or follow the further steps to disable this service even your phone will keep on Facebook.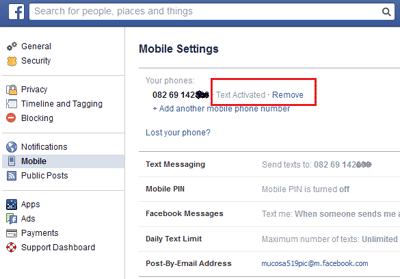 That's all, as soon as you remove your phone number from Facebook, you will no longer be able to use that number to receive notifications or upload any photos and videos to Facebook.
In case you don't wanna remove the number and still wanna deactivate the Facebook text messaging service, then look for the following steps:
Under Mobile Settings, look for the Facebook Messages section and click on the Edit button in front of Facebook Messages section.
Now select Never option from the drop down menu.
Learn Also:
So, as soon as you click on Never, the text messaging service will be deactivated until you will again activate it. Using this article you'll be able to turn off or deactivate Facebook messaging service.