Gmail doesn't have a built-in feature to know if the recipient read your email or not but it's still possible by adding a simple add-on to your Gmail account known as Mailtrack. Add-ons are customized extensions to extend the functionality of G-Suite applications such as Gmail.
By using the Mailtrack Gmail add-on, you'll be able to know when your emails are opened or read by the recipient. I found many Gmail users including me want to know if their emails are read or not because this helps in improving their productivity.

So, if you're also tired of waiting for the replies and always wanted to know if the recipient opened your email or not, Mailtrack is something you need at this point in time.
Mailtrack is one of the many Gmail add-ons available right in your inbox. You can easily add it to your Gmail account with just a few clicks and start tracking your emails right away.
Installing Mailtrack Add-On in Gmail to Know When Your Emails Are Read or Opened
Once you've already logged into your Gmail account, navigate to the Settings icon » Get Add-ons or you can simply click Add + in the right sidebar of your Gmail inbox to quickly access add-ons.
Now, within a popup, you'll find a huge collection of Gmail add-ons. Here, you need to look for the Mailtrack add-on. If you can't find it, just search for it using the search bar in the popup. Once you find it, click on it and then click the Install button.
As soon as you'll click this Install button, it will ask for your permission to install this add-on. So, click Continue in order to allow them to use your information. After that, you'll be asked to choose your Google account and then Allow Mailtrack to access your information like your name, email address, and profile picture.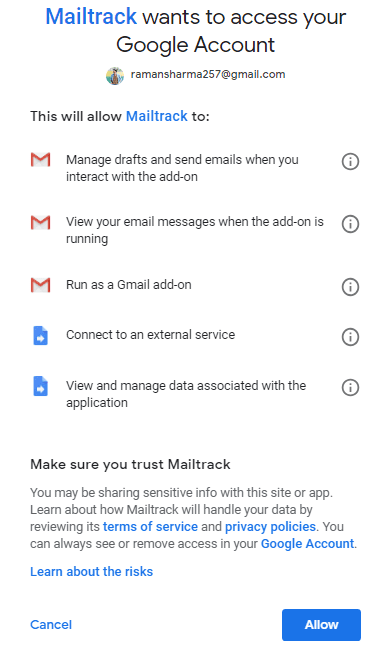 The add-on will be installed now but still, you'll not be able to track emails. To complete the installation and successfully start tracking your emails in your Gmail inbox using Mailtrack, you need to install the Google Chrome extension as an additional step to start using Mailtrack. All you need to click the Complete addition setup now link just after installing the add-on as shown in the following picture.
By following this link, you'll be proceeded to install the Google Chrome extension of Mailtrack in your Chrome browser. And once it's done, get back to your Gmail inbox and you'll see that you're now able to easily track if your emails are opened or read by recipients or not.
Isn't it very easy? It's just a matter of a few clicks. But, here one thing to be noted is that you can track emails of only those recipients who're already using Mailtrack. So, if your recipient isn't using Mailtrack, you'll not be able to know whether your emails are opened or read.