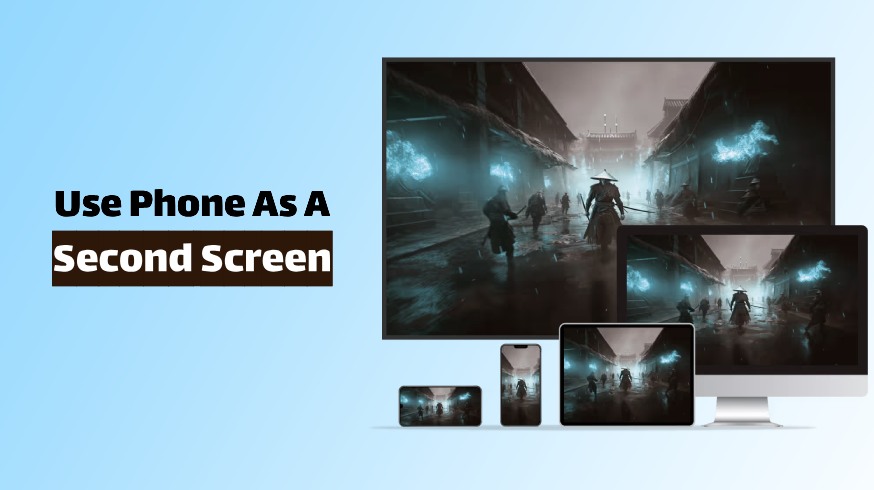 In daily life, we all feel the need to share the screen from phones to laptops, TVs, or other devices. However, some devices have inbuilt features for this, but they are not that easy to use. So, users use many other apps that provide screen casting. LetsView is one of them and today we are going to review this app and learn how to use your phone as a second screen using LetsView.
Casting or mirroring is such a thing that has to be very handy these days in the era of smartphones, smart TVs, and computers. With mirroring, we can watch the content of one device on another device and use the phone, laptop, PC, or TV as a secondary screen. Conclusively, it is a useful feature but there is a catch in using it.
And that catch is, despite this feature being famous, the problem arises that either this feature is not available in many devices or despite being there; they are not able to provide seamless connectivity so easily. And that's why we need apps like LetsView that can easily let us connect, cast screens, and give a flawless experience.
So, the reason why we need the LetsView app is clear. Now, let's get into the title and learn how to use the Phone as a second screen with the help of the LetsView application. Also, this is going to be a detailed LetsView review with all its features and uses that allow screening and casting to laptops, TVs, and other big screens.
LetsView: The App For Mirroring
LetsView is one of the most famous apps for mirroring and casting. With this app, users can present the screens of their phones, laptops, iPads, TVs, and PCs. Like if you want to present your laptop screen to your TV or phone, you can do that with the help of this app.
And it doesn't require anything special in the device except the app is installed on both devices. Moreover, it has three more features, Drawing, Remote Mirroring, and Remote PC Control.
Notably, the LetsView app is available for all types of operators. It doesn't matter if you want to do screen mirroring in Android, iPhone, iPad, Windows laptop, MacBook, and tablets.
How to Use Phone as Second Screen Using LetsView?
As you saw, you can use your phone as a second screen with the help of the LetsView app. If you want to do it, a detailed guide is mentioned here. Follow the below-mentioned guide step by step and use your smartphone as a second screen.
Let you know, here we are using a Windows laptop to connect with an Android phone. You can use a tab, iPad, MacBook, or PC as per your requirements or needs.
Step 1. Go to the official website of LetsView and download and install the LetsView app on your smartphone and laptop. On the phone, you can also download the app on Play Store and App Store as well.
Step 2. Open the app on both devices.
Step 3. On the laptop, you can see a dropdown box. Tap on that and select the second option there, Extend My Screen.
Step 4. Now, click on the Screen Mirroring button. A box will appear here.
Step 5. On your smartphone, there is a passkey with My Passkey title. You have to enter this passkey into the appeared box on the laptop.
Step 6. After entering the key, click on the arrow.
Step 7. Now, the screen of your laptop will start casting on your smartphone. Everything you do on your laptop will be run on your smartphone. It means your phone is now working as a secondary screen.
These were the steps to cast the laptop screen to your phone. But let you know, with all the same steps you can present the laptop screen to the TV & PC, and phone screen to laptop, PC, and TV. You just have to enter the passkey of the secondary device in the primary device, of which screen you are going to cast.
As you saw, we used the passkey to connect the phone screen to the laptop, but one alternative way, the QR code, is also there. You can use that as well. LetsView will give a separate QR code for each device, you can scan that and mirror the device's screen.
Pricing of LetsView App
The basic thing that we are talking about, Mirroring, is completely free on the LetsView app and anyone can use it. But, it has some premium features with it for which you have to pay. It has a pro plan where the app offers you screen mirroring in HD quality, remote casting, control on a connected screen, and many others.
Talking about the prices, it has two paid plans. The first one is for single users and the second one is for businesses. In the individual plan, it costs you $4.99 per month and $29.99 per year. In the business plan, you will have to pay $39.99 per year.
Verdict: LetsView Review
After using your phone as a secondary screen with the help of LetsView, one thing we can say is it gives a smooth mirroring experience. There is no lag in the content presentation, you will experience real-time mirroring. Moreover, it offers HD quality footage in its pro plan, which is a useful feature if you are mirroring for a purpose like presenting content to someone or using it for professional work.
Another thing that I liked about it is that there are no tough device requirements to use this app. However, the TV must have an Android 5+ version to run it successfully. It is also easy to use, there is an effortless procedure to mirror the screen to another device with the LetsView app.