As you would know Windows 10 is the personal operating system developed by Microsoft and unveiled in September 2014. Now you will be happy to know that Windows 10 technical preview is available for download absolutely free.
In this post, I will discuss a few important things about Windows 10 that every Windows power user would like to know. So, here you will find, what's new in Windows 10, how can you download it, and everything you need to know about Windows 10 technical preview.
What's New in Windows 10 Technical Preview
Wanna know the new features in the latest Windows 10 Technical Preview and the first Windows 10 Technical Preview for phones? Here they are:
More than 20 languages
The Windows 10 Technical Preview is available in more than 20 languages so that people around different regions will have a great advantage of it.
Cortana
Cortana is an intelligent personal assistant on Windows Phone 8.1 and the Microsoft Band. In the Technical Preview of Windows 10, some files leaked which showed that Microsoft intended to port it to their new OS. Microsoft has announced that Cortana will run "on Windows 10 PCs and tablets". They have since shown an early build of Windows 10 with Cortana in it at the Windows 10 event on January 21, 2015.
Start menu
As it was missed in Windows 8 operating system, but now in Windows 10 technical preview it is available for users.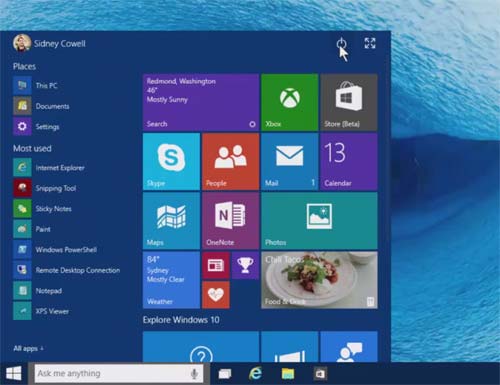 Multiple desktops
Multiple desktops or we can say virtual desktops are also a cutting-edge feature of Windows 10 technical preview that users may love. This new feature allows you to create separate Desktops that run side-by-side and gives you the ability to organize tasks and apps by project or function.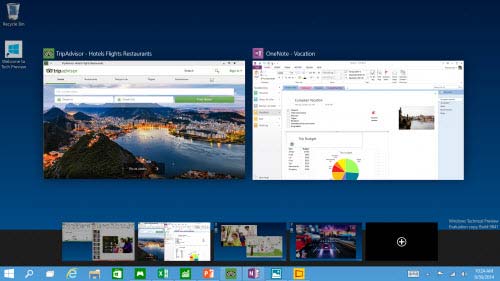 Be Careful About These Things Before You Install
Here are a few things that you should be careful of, before installing the Windows 10 Technical Preview on your computer.
Software that is still under development
Are you okay with the statement that you're going to try out the software that's still in development? if yes, don't mind lots of updates or a UI design that might change significantly over time.
This is a testing version of Windows 10 for getting your feedback about it via the Windows Insider Program.
Don't install it on your everyday computer
As it is an under-development version of Windows, Microsoft is suggesting to its users not to use this technical preview in their business or everyday computers or on such PCs that contain private or important files.
Know what an ISO file is and how to use it
Also, remember that Windows 10 Technical Preview is available in the form of an ISO file, so you know how to deal with it, then only install it.
Also, keep in mind
Unexpected PC crashes could damage or even delete your files, so you should back up everything. Some printers and other hardware might not work, and some software might not install or work correctly, including antivirus or security programs. You might also have trouble connecting to home or corporate networks.
So, many people also would be thinking what does this technical preview work with? Technical Preview should work with the same devices and programs that work with Windows 8.1, but you might need to update or reinstall some of them.
System Requirements
Basically, if your PC can run Windows 8.1, you're good to go. If you're not sure, don't worry—Windows will check your system to make sure it can install the preview.
Processor: 1 gigahertz (GHz) or faster
RAM: 1 gigabyte (GB) (32-bit) or 2 GB (64-bit)
Free hard disk space: 16 GB
Graphics card: Microsoft DirectX 9 graphics device with WDDM driver
A Microsoft account and Internet access
How to Download?
Downloading the Technical Preview of the Windows 10 operating system is pretty easy. First of all, sign up for the Windows Insider program (if you haven't already) by visiting this link. Here you'll find the link to sign up for the Windows Insider program and different download links for different languages or countries. So, just select your regional language and click on the download link as shown in the following picture.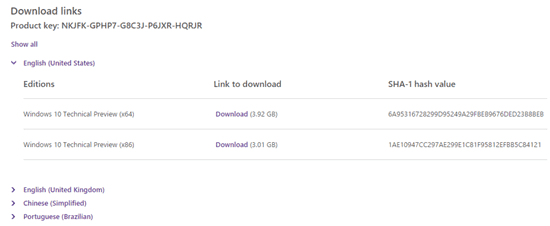 When the download is complete, transfer the ISO file to installation media such as a USB flash drive or DVD. Now, double-tap or double-click setup.exe from the installation media, and then follow the instructions.
Final Words
I hope friends this resource will be helpful for you to know everything about Windows 10 Technical Preview. Moreover, if you want to download Windows 10 on your Windows Phone, you will have to wait for a few more days for its mobile version as it is announced to be available in February 2015.