If you have a website and running ads on it, the banner would be the most common word for you. But, in the case of designing a banner, it may be difficult for most of us. If you try to design a banner using any editing software like Photoshop, Paint, etc., and not getting the best, no need to worry. I'm here with the top 5 free and premium websites for you to design banners very easily.
You can download all your created banners from the given sites. But keep in mind that all these websites are not free. It means that some of them are free and some are premium. With these websites, you'll feel very easy to design banners online with fun and joy. These all websites are really interesting and make your job easy. So, just move of these websites and try designing your own banner online: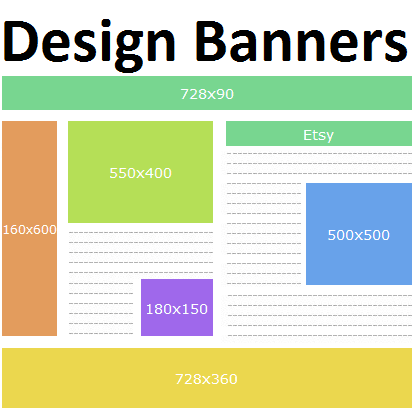 Creatopy is the best and most popular website to design banners online for free. You can create many types of banner ads like Flash, GIF, and HTML5, etc. You can download your designed banners from here. After the banner is created, you can attach a link with it and publish your banner to share it with the public. This site provides you a very easy interface to design banners online.
To start creating banners, you can just log in with your Facebook account, Twitter account, Google account, Yahoo account, or by registering on BannerSnack and log in with its existing account.
After login, you'll see different banner sizes and different banner templates. Just select the size for your banner and start creating. You can also edit any of the available banner templates on BannerSnack and design the best and animated ad banner according to you.
With Venngage banner maker, you can make professional-quality banners for your social media profiles and blog posts. If you're having a YouTube channel, you can create your YouTube channel banner using Venngage Banner Maker.
As we all know that Fotor is an online free photo editing tool. It also allows you to design banners for your website without any membership or sign up and you can easily download your designed banners with a single click absolutely free. It also doesn't attach any link to your banner like other sites. It simply behaves just like an offline photo editor and you can use it very easily.
Just visit the link and select the height and width for your banner and click on Start Now. So, start creating banners very simply by attaching images, texts, and many more to make your banner look amazing and animated.
BannerFans is also an amazing free website to design banners online absolutely free. It allows you to design banners and download them without log in to the website. Just move on to the website and start creating a banner. It is a feature-rich website which enables you to manage the layout of banner, texts & fonts, shadows & effects, border and format. You can also upload your own image as a background and can also use any image as part of your banner.
You can also save your banner on your site's profile by creating your account here. If you don't want to register, you can also sign in with your Facebook, Google, or more accounts.
HTML5Maker is another website to design outstanding banners with animations. you can download your designed banners for free. With this site, you'll be able to design such an animated banner that will look like as designed by a brilliant designer. So, you don't need any professional designing skills. Just move to this site and create outstanding banners for your website.
HTML5Maker also allows you to become a member to get more facilities of HTML5Maker. You can get more details by visiting the website.
Recommended Posts:
That's all guys! This is a list of my little search on the internet. So, I hope you ll will like these websites.