Now prank with your friends and laugh for ages with your Android smartphone. In this stressful life, we all need some sort of break to entertain us and different people love different types of entertainment some like to listen to music, others love to dance but there is one other way too, that is loved by all. It is none other than a prank with your friends.
If you are an Android phone user and you are desire to prank your dear ones then there are certain apps that will help you to do these pranks in some innovative ways. The best part about these apps is that now these apps are exclusively available on Google play. To reduce your time searching for the best apps, today I have a collection of the top Android apps to prank with your friends. In addition, you will love to know that these apps are absolutely free to install on your device.
So are you ready to enter the world of laughter, shock, and fun then read about these prank apps and download them soon to have lots of entertainment?
Here I deliver the list of top free Android apps to prank with your friends:
With this Lie Detector Test app, you can prank upon your friends by playing this lie detection test game. This is one of the best apps to entertain you and your friends.
In this app, you can preset the results to prank your friends or press the volume key when scanning (volume+ for truth, volume- for lie). Isn't it great?
Scare Your Friends – SHOCK!
Now scare, shock, and surprise your friends and close ones with this best shocking application, which will frighten even the toughest guy.
The best thing about this app is that it is very easy to use the all you have to do is choose a horrifying picture, set the terrifying sound you like. Lastly set the time after which you want to scare your friends. Now all you have to do is give your telephone to your friend to play with. After the set time, the horrifying picture with the terrifying background sound will startle your friend.
Here comes an outstanding app to prank with your friends with different options like 'Call from hell'. In this app, you have to make yourself busy and ask someone to take the call for you. After this, you can watch the victim answer the call through which you can have lots of fun. The other one is 'Guard the phone' in which leave the phone on the table and ask someone to check something for you on phone and when the victim will touch the phone a scary ghost will pop on him with a terrifying scream.
Like this, there are many more options which are, 'Hell camera', 'Cute Cat', 'Fake Game', 'Broken glass', 'Color blind' and so on.
The best thing is that all pranks now are video recorded so you can see the victim get scared during the pranks and share it with others 🙂
With this Android app, you can easily prank with your friends by showing them out the broken screen effect on the smartphone. It exactly looks like a real broken screen.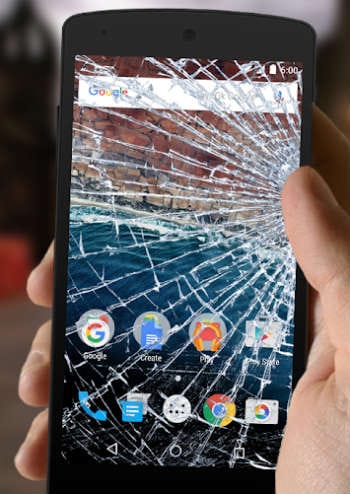 It just needs a single touch of your finger to turn on the broken effect. It means, as soon as your friend will touch the screen, the app will simulate the cracked screen with loud cracking sounds on your phone. It looks like the phone is broken by just touching.
Further Reading:
I know you are surely going to love these apps because I have tried all of them. You will not believe but all the above apps are mind-blowing and have made my day full of fun and laughter. So heartily suggest you enjoy these apps.