As we all know that every browser has built in bookmarking feature to save the important links you browse on the web, but sometimes this bookmarking feature doesn't stand the test of time. Suppose the scenario that you're in a cyber cafe or using your friend's device and came across a enticing article but you don't have time to read it now so in this case you will have to email link to yourself to read it later.
But, in case of mine I use my favorite web-based browser bookmarking tool to save the important links inside, from anywhere and can be accessed from anywhere, with any device, on the go.
So, I've listed some of the popular and my favorite web-based browser bookmark management tools for you.
1. Xmarks [Discontinued]
It's a LastPass (a password management tool) company. Xmarks synchronizes across multiple computers and web browsers such as Chrome, Firefox, Safari and Internet Explorer.
So, you just need to install the Xmarks extension for your browser and start adding the bookmarks into this bookmark management tool so that you can easily access your saved bookmarks from any device and anywhere by simply logging into your Xmarks account.
Instapaper works as a great wallet for your essential articles, images, videos you find on Internet but don't have time to see at the same time. So, with the help of Instapaper browser bookmark management tool, you can easily save articles and web links to read them later anytime on any device.
Instapaper is also available as browser extension for different web browsers like Google Chrome, Firefox, Opera etc. So, you can just need to create your Instapaper account and start syncing articles you like to read later.
I really impressed with the tagline that suites with its name and its work – when you find something you want to view later, put it in Pocket. Pocket has browser extensions for many browsers including Google Chrome, Firefox etc and you can also use it in your device by installing its app.
So, all you need to do is sign up for Pocket and start syncing articles and useful links into pocket from your computer browser or from mobile apps like Twitter, Flipboard etc. And when you put the article into pocket, there is even no need to have Internet connection to view it.
Diigo is another bookmarking web place that allows signed up users to save their important and useful articles and links that can be easily seen later on any device.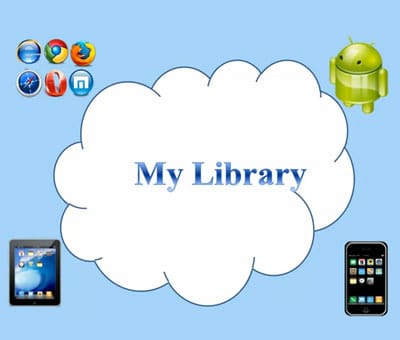 Diigo is the best option for those who are researching on any topic. It allows you to highlight text and add sticky notes in your saved articles so that you can easily get them back again. With the help of Diigo, you can also share and collaborate your findings with your friends, co-workers and other public (if you want). It's also available as browser extensions for Chrome, Firefox etc.
5. Readability
Readability is also a free web-based browser management tool to store the useful articles you found suddenly on the web and due to lack of time you wanna read them later.
So, just free sign up for the Readability account and install the browser extensions in your browsers. Or you can also enjoy it in your Android device, iPad or iPhone with the relevant apps.
I also liked Bookmax as an online bookmark manager. You just need to visit Bookmax.net and sign up for a free or premium account and also install the extension for your browser for fast bookmarking.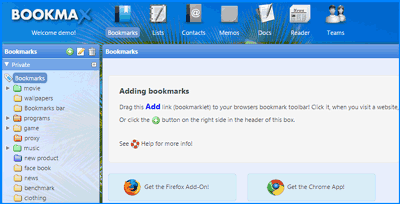 I found its interface very easy to use and have lots of features such as easy drag and drop handling, nested folders, search and usage statistics, import and export to standard bookmark or excel file, online lists, memos, contacts, notes, newsfeeds and more.
RECOMMENDED FOR YOU:
Many more out there…
The above listed are the best and my favorite web-based browser bookmark management tools. But, still there are many more out the Internet such as Pinterest, Symbaloo etc. I found them too on the web but didn't wish to include into the list because I found the above ones best and I'm sure that after going through any of the above listed bookmark management tools you won't need to search further.
Still, I would like to recommend one more web-based tool to manage your bookmarks on any device on the go – Google Bookmarks. It's also one of my favorite bookmark management tool.