As the demand for Android smartphones is spreading vitally in this digital world, many activities have come into the palm of Android phone users. Among these activities, reserving your seat on the Indian railway just in one touch by operating your Android smartphone is an outstanding and time-saving thing. For this reason, many Android apps developers have distributed enormous apps to book your ticket very easily. So, today I have listed 5 of these best Android apps to book your Indian Railways train tickets very easily through your phone.
Furthermore, these apps also come up with different useful information related to Indian railways. Like as PNR status and tracker, IRCTC mobile ticket booking, find trains, seat availability, train schedule, train live status, arrival, departure, offline information for train routes, a list of budget hotels in most of the Indian cities, and many more.
You would be thinking why not visit Google play and get these apps. It is true that Google Play has a number of such apps but I have selected the best 5 apps among them. The additional features of these train ticket booking apps are also displayed in this article so that you could get the best one you are searching for.
This is the newly launched official Android app of IRCTC which made rail ticketing simple on smartphones by just SWIPE and SHUFFLE, SELECT, and BOOK.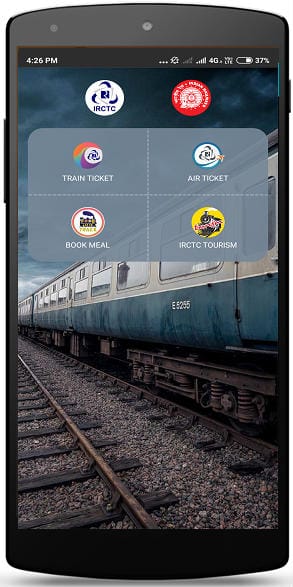 It lets new users register and activate directly from the Android app. Where most of the apps don't let users book in Tatkal or Premium Tatkal quotas, this app supports Ladies, Tatkal & Premium-Tatkal quota booking.
Paytm's Android app also let users book Indian railways tickets easily from their Android phone. All you need to have an IRCTC account and this Paytm app on your smartphone.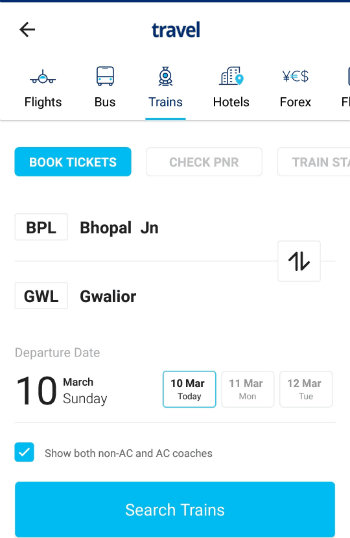 If you don't use Paytm now, you can install it from Google Play Store and register with your mobile number. You'll find an option for Train Tickets in the app. Go with it and book tickets.
Among the list of the best apps to book railway tickets, ixigo's train tickets booking app remains on the top. The app is simple and well organized to help you in the best possible way.
This is an official IRCTC partner train app for booking train tickets, and check where is my train with NTES live train running status, PNR status, train running status (works without internet) & all other train information.
ConfirmTkt is another official IRCTC partner train app for booking Indian railway tickets and check PNR status on your Android smartphone.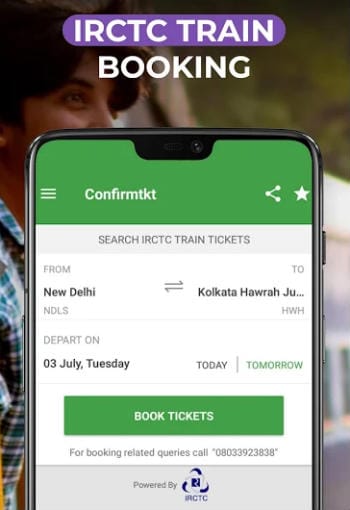 Along with booking train tickets, the ConfirmTkt Android app also helps users predict the PNR status as well as order food on the train.
Trainman is a marvelous app for Android phone users to book Indian rail tickets, check PNR status, and train running status. The app is simple and very easy to use.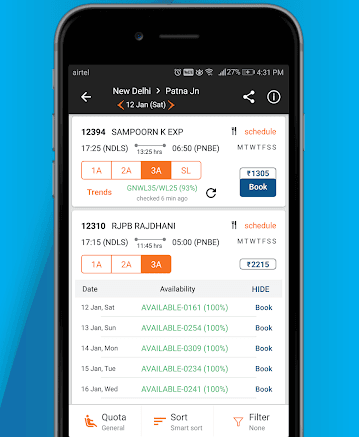 This highest rated train tickets booking app can be used in 8 languages including English, Hindi, Marathi, Kannada, Tamil, Telugu, Bengali, and Gujarati. Not only tickets but you can also book food on the train using this app.
Keep Reading: Android Apps to Book Flight Tickets
That's all! These are the best Android apps to book Indian Railways train tickets from your smartphone. I hope you'll like them!