If you're looking for a WordPress theme, there are many companies you will find on the web such as MyThemeShop, ThemeForest, Themify, Magazine3, and more. Other than this, Thesis and Genesis framework is also a good option. In this article, I'm comparing two theme developing companies – MyThemeShop and Magazine3.
I tried the themes of both of these companies. Currently, I have a total of 3 premium themes of MyThemeShop and 1 theme by Magazine3.
Recently a few weeks ago, I purchased a WordPress theme by Magazine3 because I loved the design but honestly, I felt lots of problems while dealing with a Magazine3 theme. You would be thinking WHY? Let me tell you everything!
MyThemeShop VS Magazine3 – The Untold Comparison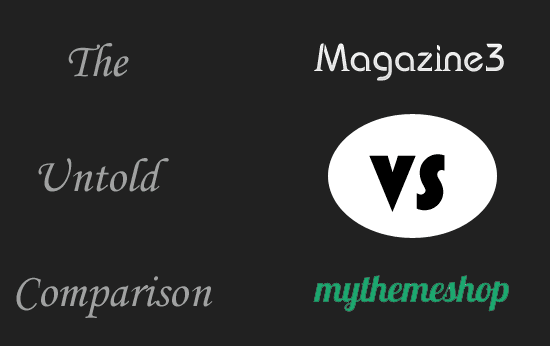 In this post, I'm sharing my experience with both of these companies. So, first of all, I would share my experience with MyThemeShop.
My Experience with MyThemeShop
MyThemeShop is widely popular and my favorite platform of very flexible and search engine optimized WordPress themes. I purchased 3 premium WordPress themes from MyThemeShop and used them on my blog but honestly, I was looking for something different. But, finally, I found my dream theme on Magazine3 and purchased it.
One of the best things I liked about MyThemeShop is their support. However they have separate supports for free and premium customers, but they don't have any discrimination in providing support, as I myself experienced it. This was one of the best reason I had been using their free theme for more than 2 yrs on this blog.
Why Purchase MyThemeShop Themes:
Ultra Responsive Designs
Very Quick Support From Very Skilled Staff
Industry-Leading Options Panel
Narrated Videos Tutorials
Free Shortcodes with All Themes
Customize the Look & Design of Your Theme
Unlimited Background Options
Great In-Built Ad Management
600+ Google Fonts To Use In Your Theme
Themes are Compatible With All Major Browsers
Easy-To-Use Built-In Social Sharing Buttons
Designed with Fast Loading Scripts
Clean & Lightweight Code
Themes & Plugins are Search Engine Optimized
Many More….
Why Not:
I don't know any special demerit of MyThemeShop themes excepting the PRICE. Yes, the pricing is only thing that can hurt you a little. A single MyThemeShop theme will cost you $69.
Here's My Experience With Magazine3
However, I'm not a very old customer of Magazine3 but still recently I purchased a theme from here. I liked theme on Magazine3 last month and instantly purchased it for this blog. But, the only problem I felt with MyThemeShop is the bad support. Bad in sense, they took lots of time to reply a little question. But, now it's okay and they're replying well.
Why to Use Magazine3 Theme:
Responsive Designs (But less powerful than MyThemeShop)
Options Panel (But not that feature-rich as MyThemeShop)
Customize the Fonts and Links of the Website
Great Built-in Ad Management
Easy-To-Use Built-In Social Sharing Buttons
Clean & Lightweight Code
And More…
Why Not:
High Price
Slow Support
Responsiveness is Not that Better as Compared to MyThemeShop
Shortcode Feature is available as it is in MyThemeShop (You will have to install a plugin for this).
The Verdict
Above I shared my experiences with both of these WordPress theme makers and I'm sure you would be thinking to buy a MyThemeShop theme because I appreciated that a lot as compared to Magazine3, and that's true. So, the fact says MyThemeShop is the best company for buying a theme.
But, still, I'm using a Magazine3 theme because I really loved that. However, I felt problems with their support staff and responsiveness, so most of these issues I fixed myself (as I'm a little coder in PHP), and some problems are solved by the Magazine3 support staff.
Other than this, I can also say the Magazine3 support staff is well skilled because they guys need only a single reply to solve my problems however that single reply takes time.. 😉
Recommended Articles to You: