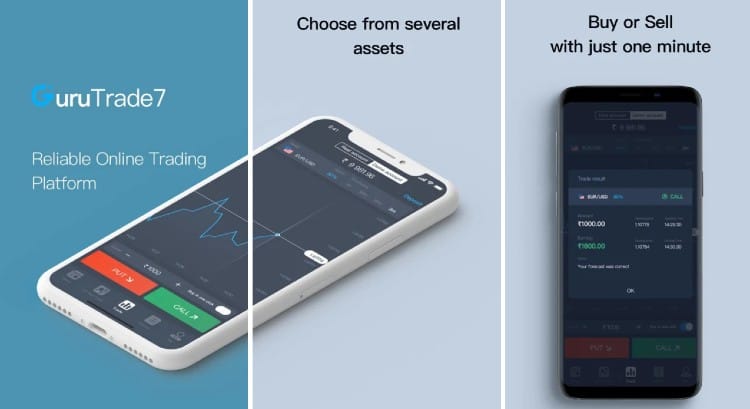 Are you new to trading? Looking for some of the best Indian trading apps? You're then at the right place as in this article I'm going to list the top 5 online trading apps in India.
With many online trading platforms and apps, stock trading these days has become the easiest task ever. People with almost no knowledge can trade on stocks in the market and earn money. Even if you're a beginner, there're many online trading apps in India that will not only allow you to trade in the stock market but also help you to do so.
So, all you need is to find out a good, trustworthy, and easy-to-use online trading app so that you can have a great start. I'm going to share the 5 best online trading apps of the year 2022. These are the best trading apps in India which can be easily downloaded to your Android smartphones from Google Play Store.
The Best Trading Apps For Android in India
When I dug deep into the Android play store to find the best trading apps, I found many bad reviews for some of the popular names in the market. This is the reason I tried every application before sharing them in this article. Let's have a look:
Angel Broking is one of the best stock trading apps for Indians which allows you to trade anytime, anywhere in Indian rupees. It not only allows you to start trading but also helps you improve your online trading skills by providing financial advice and different guide materials.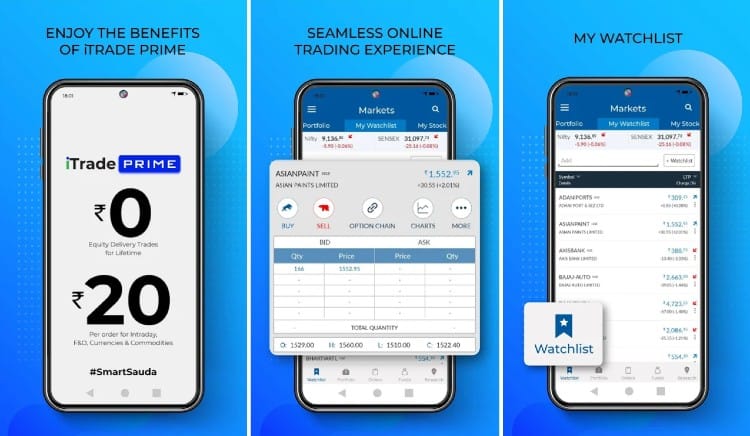 Key Features:
Open free Demat account
Live streaming on prices
Supports over 40 Indian banks for payment
Quick and secure fund transfer
In-depth reports of Indian and global markets
Latest market trends
Personalized support via live chat, phone, and email.
Highlighted Positive Review
A Kumar wrote, "Excellent app for both new and existing users. It is user-friendly and easy to understand how to buy and sell stocks. Many people heard about the share market but they do not know how to trade and invest in the Share Market, for those I recommend just installing this app and opening their Demat account in the Angel Broking app. The margins provided by this app is much better. No lag at all."
Highlighted Negative Review
Mayoor Bhatt wrote, "Mobile app is not working well. The reasons are 1. Application crashes automatically 2. Graphs are not loading and especially while adding more than two indicators 3. Intraday / Call and Put recommendations are now completely dangerous as most of them are loss-making. In addition to the above, the is no notification for the intraday advisory."
It is another popular online trading app that lets you trade in the stock market like a pro even when you're a first-time investor. Its award-winning research gives you various insights, market news, and stock recommendations to help you watch markets closely and give you better control over the money you've invested.
Key Features:
Clean user interface
Simplified login process
Secure fund transfers
Set alerts for stocks
View top 50 losers and gainers
Choose a landing page of your choice
Monitor and research the stock market.
Highlighted Positive Review
Praveen Kumar wrote, "After the latest updates in the mobile app, now it is a very good app than all other trading apps in the market. The developer added FNO Section and added more chart indicators. I liked it."
Highlighted Negative Review
Karthik wrote, "The app could be very excellent.. No guidance from the team.. Not even bother to take care of customers. Unhappy."
StockEdge is one of the best online trading apps in India which focuses the most on research and analytics. Stock Edge is India's fastest-growing share market app that helps traders and investors analyze the stock market in-depth and take better decisions.
Key Features:
Daily stock market updates
Detailed stock market research
Technical-based daily scans
Investment ideas
Readymade trading strategies
Portfolios of famous investors
Mutual fund analysis
A lot of learning material to get started.
Highlighted Positive Review
Chetan Motiwaras wrote, "I must say it's a wonderful app with immense information about the stock market. With updated news, it's really well-designed and user-friendly. Moreover, it gives you an option to choose the language and superbly they give you a brief on the company profile. A worth downloading app."
Highlighted Negative Review
Chandan Jain wrote, "Stupid app. Registered with email and mobile, it sent an email for verification which I never received and there's no option to resend the mail for verification, and cannot log in without it."
Guru Trade 7 is India's other reliable online trading app with the most popular FOREX market assets. The best thing about this trading app is that it provides a free demo account so that you can learn how to trade without risking your funds. You can anytime switch to a live account once you're sure enough.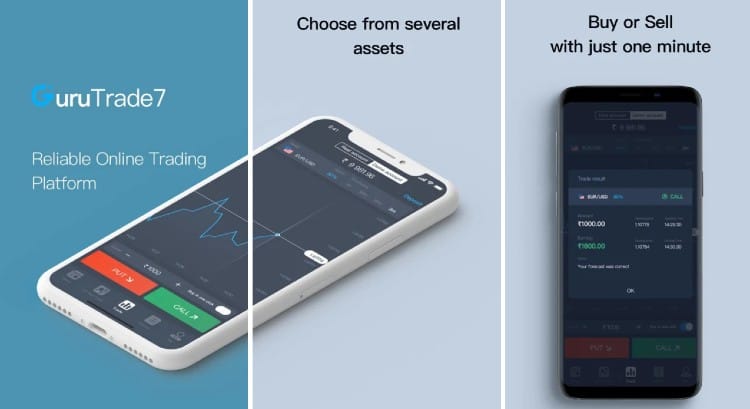 Key Features:
Flexible 24/7 trading platform
Free demo account to learn how to trade
Switch to a live account anytime
Instant deal execution
Multilingual customer support
24/7 support using live chat, email, and voice calls.
Highlighted Positive Review
Amit Katoch wrote, "Seems to be a user-friendly app. I deposited Rs 100 in the real account for trading and invested in tiny bids. Got a number of losses and gains during my online trade experience and made my balance as Rs 320. Just initiated the full withdrawal of funds of Rs 320 into my PayTm account and awaiting it to be credited."
Highlighted Negative Review
Mohit Singh wrote, "This is a binary trading app but Their trade graph is completely different from live trading graphs. Most of the time graph trade normally but when you enter bid it becomes more volatile."
IIFL Markets is an award-winning share market app in India awarded as the best mobile trading app for stock markets by Zee Business Awards. You can know everything about the stock market using this app and start trading.
Key Features:
Live market updates on single tap
Customizable watchlists
Smart investor tools
Stock tips backed with research
Complete stock analysis
Monitor all the Indian and global markets
Detailed information about every company
One tap support via call or email.
Highlighted Positive Review
Siddhant Sarraf wrote, "This application is very good. I had trouble with my ledger account so I called the customer care person; Prasad. He was really very helpful. I am overall satisfied with the service."
Highlighted Negative Review
Yusef K wrote, "Phones are getting faster and this app is getting slower. The charts don't work well. Can't zoom out properly. The prices sometimes are wrong and I have to double-check on the exchange website. Search functionality shows some old prices always. Misleading and can cause mistakes."
Bonus – Stock Trainer
Stock Trainer is a virtual stock trading trainer app that works as a trading simulator so that investors can learn trading before investing their real money. However, it's described as a simulator but the Stock Trainer app is not just a simulator but works with real market data to give you as close to real-life results as possible.
One of the advantages of this app is that it lets you test the waters before you jump in. If you are new to investment and think you have what it takes to be a Stock Market expert, then I suggest you try this app first before investing your real money. In this simulator, everything is virtual, there is, therefore, nothing to lose.
Conclusion
If you're stepping into the stock market and willing to start investing your hard-earned money in stocks or mutual funds, it's very important to choose a good broker. In this article above, I've already listed the best online trading apps for Indians but if you're still confused and seeking my recommendation, I will recommend you Angel Broking.
Generally, almost all the above-featured trading apps help beginners with all the necessary tips for trading and investing. But, if you're still not ready to invest your real money, I suggest the Stock Trainer app that I've already mentioned above as a bonus.
Well, for all the apps I featured, different users have different experiences and points of view. So, I suggest you try these apps yourself before making a decision. And I will love to know your experience so if you get something to say about any of these apps, the comment box is waiting for you below.