Want strong personal privacy for your Android phone gallery to protect your photos, videos, and other music or media files from others? Because it happens many times that your phone goes into the hands of many people around us and anybody can see your personal data such as photos, videos, etc from the phone gallery.
To get rid of this problem, you can use gallery locker Android apps specially available on Google Play to lock your phone gallery to protect your private or personal data. So, in this article, I've listed the 5 best gallery locker apps for your Android smartphone.
It is the free version of the Gallery Lock Pro Android app. Its pro version is available on Google Play at Rs 255.82 with some extraordinary features. However, the free Gallery Lock Android app is sufficient for you to provide the security lock to your phone gallery. This app also helps you to hide pictures and videos from your Android gallery.
Isn't it a very interesting and useful app? Some other features include Beautiful designs, A variety of viewing modes, Easy-to-use of PIN and Pattern access, etc.
It is another fantastic free gallery locker Android app. It is absolutely free! You can show all media files on your phone and manage your gallery to provide a screen lock to protect the privacy of your data inside the gallery.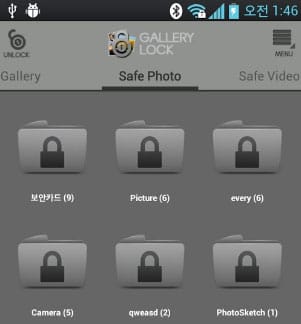 This app supports three lock types – PIN, Password, and Pattern lock. So, you can easily hide all your personal data in your phone gallery from everybody by password-protecting it using this Media Lock app.
Secure Gallery (Hide pictures & videos) can hide or lock pictures and videos for the protection of your privacy using a password or pattern! Why don't you start to hide pictures and videos with the 'Secure Gallery' and keep your privacy safe now?
It has many more interesting features such as a friendly user interface, unhide pictures and videos anytime you want, slideshow support, stealth mode support, and more. The best thing is that all of these features are provided with this app absolutely free.
Photo Lock App is another powerful and feature-rich Android app that enables you to lock SMS, Contacts, Gmail, Facebook, Gallery, Settings, Calls, and any app you choose, with abundant options, protecting your privacy.
As it provides multiple features and gives the facility to protect your Gallery as well as many places like SMS, Gmail, Facebook, etc, so most people install this app rather than the above three.
Folder Lock is the best gallery locker app for your Android phone that lets you password-protect your personal files, photos, videos, documents, contacts, wallet cards, notes, and audio recordings on Android Phones.
The app comes with a clean and pleasant interface. This app also enables you to transfer files from Gallery, PC/Mac, Camera, and Internet browsers.
So, these are the 5 best gallery locker apps for your Android smartphone. I found these apps very useful for everyone. I use the AppLock Android app for securing data on my Android smartphone. So, find the best one for you and go for installation.