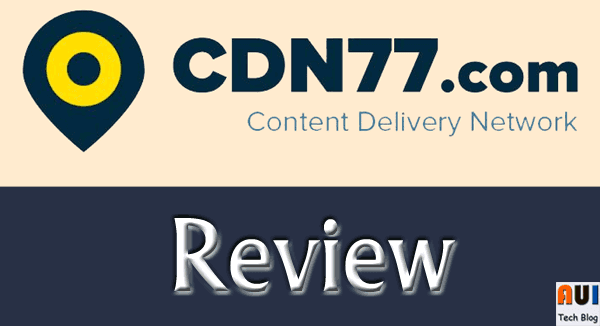 If you're a webmaster, you would know very well that how essential it is to speed up the web pages. Not only the users love fast loading websites but also Google prefers it the most and even made the page loading speed a ranking factor for search results.
So, if you want to rank higher in Google search results and attract more viewers to your site, you must work hard on your website loading speed.
Along with lots of tips and tricks, using a CDN is one of the best ways to increase website loading speed.
In one of my previous posts, I was listed some of the top CDN providers to speed up your website. CDN77 is also one of them. This article is actually a review of CDN77 explaining the pros and cons of using CDN77 for your website.
Some Important Features of CDN77 You Should Know
Every CDN provider has its own different features and qualities to attract more users. CDN77 also offers many outstanding features that make it one of the best CDN providers around the web.
31 Data Centers with SSD Storage
With 25 countries and 5 continents, the CDN77 has a collection of 31 data centers to distribute your content frequently to every region of the world.
So, if visitors to your site are not limited to any specific region and comes from all around the world, CDN77 will be a great option, if you're looking for a CDN.
Other than this, all data centers are SSD-based. Most other CDN providers offer HDD storage whereas the SSD storage drives perform up to 20% faster than traditional HDD drives. So, this is another great reason to signup for CDN77.
HTTP/2 Ready
HTTP/2 is the second major version of HTTP network protocol which is much secure and faster than its predecessor. If you're going to choose CDN77 as your CDN provider, you'll be glad to know it's HTTP/2 ready, meaning all your content distributing over CDN77 will be much faster and secure than ever before.
Visit this page to test yourself how HTTP/2 technology is faster than HTTP/1.1.
Quick Support With All Possible Options
Technical support is always the main factor while choosing a CDN provider for your website. There are three most possible options companies use to offer support to their customers; email, phone, and live chat support.
However, it's not sure that every CDN provider offers support via all these mediums, but you'll be happy to know that CDN77 offers support via all these three options.
I tested the Live Chat support option of CDN77 with a problem I knew the solution to, just to check out their reply time and ability to solve the problem and honestly their support guy replied very instantly and solved the problem in no time.
So, in the case of technical support, CDN77 is considerably the best choice.
Fast Speed & Optimal Performance
Why you're going to set up a CDN for your website? Just to fasten web pages and reduce your server load, right? So, speed is the most important factor while choosing a CDN provider.
I tested the speed of CDN77 on some of my websites by using some popular speed testing tools like Pingdom, GTmetrics, etc. and I found outstanding results. Where the website loading speed of the websites was above 8 seconds without implementing CDN77, it reduced to 3 seconds or less after setting up CDN77.
Also for being secure with Google's website loading ranking factor, it's very important for you to make your site load in less than 3 seconds. And by using CDN77 and a good cache plugin, it becomes fun doing the task.
Easy to Setup
If it's your first time using CDN on your site, the setup process may be difficult, for most CDN providers. But, in the case of CDN77, it's just a task of few seconds.
Here're the steps you need to follow:
Signup for the CDN77. Once you're signed up for CDN77, you're ready to create your CDN resource where you need to enter your origin URL and name of the CDN resource where files will be stored.
Use CDN URL. After this, you need to replace your origin URL with the CDN77 resource URL. In the Instructions tab, there's an integration guide for different CMS.
That's all about setting up CDN77 on your website to speed up the webpages. Isn't it an easy task?
14 Days Free Trial
Unlike most CDN providers the CDN77 offers 14 days free trial (without credit card required). So, you can first experience the services for almost half a month and once 100% satisfied with the results can upgrade the CDN.
CDN77 at a Glance: The Pros & Cons!
After knowing about the above-mentioned features of CDN77, it's almost clear that it's one of the best CDN providers around the globe, though there might be some downsides too that can not be neglected during this review.
So, in this section, I'm just disclosing the pros and cons of CDN77 in very short. Have a look:
The Pros:
Amazingly fast speed
Ease of setup
Quick and reliable customer support
Free trial without using credit card
Flexible pricing with pay as you go facility
The Cons:
Lack of customizations
Price is a bit higher as compared to most CDNs.
Conclusion
Honestly, after testing CDN77 and knowing about such great features all I can say it's worth the value. I've tested many CDN providers till now but if I see all the essential factors for choosing a CDN, CDN77 fits the best whether in terms of speed, customer support, or quick setup.
The best thing about CDN77 is you don't actually need to believe in any review or words of mouth, just go for its 14 days free trial and experience the service yourself, and then upgrade.
So, what are you waiting for? Just visit CDN77.com, sign up instantly, and start analyzing the service for free with its free plan.
More Recommended Articles: