Knowing your website's specific needs is key to choosing a best CDN (Content Delivery Network). As you're planning to hire a CDN plan, I hope you would be aware of how CDN work and how it is helpful for speeding up your website loading speed.
Truly, a CDN is a system of distributed servers across the world which cache the static content from the origin server (where your website is hosted) and copies it to its servers around the world so that when users open your website, the static content is delivered from the CDN Server closest to them.
Here's the graph that describes very well, how CDN works: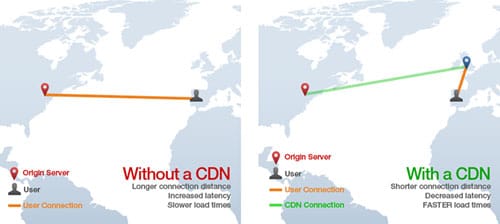 So, if you're really serious about speeding up your website loading and also the bandwidth usage of your site is high, then it's time to sign up for a CDN program.
But, be careful while choosing a perfect CDN for your site and as I told you that knowing your website's important needs is key for choosing a good CDN but there are few more important factors for the same.
Recommended: Website Loading Speed is Now a Ranking Factor
So, here I'm going to tell you 6 most important tips for choosing a perfect CDN provider to accelerate your website loading. And I'm sure these tips will help you a lot in selecting a best content distribution network (CDN) provider for your site.
Must Consider Tips for Choosing a Perfect CDN Provider
#1:

Knowing Your Website Bandwidth Needs

Knowing your website bandwidth needs is the first step for choosing a suitable CDN provider. Your website bandwidth consumption will also tell you that whether you should go for a CDN or not.

In fact, if you're consuming the bandwidth less than 100 GB, then you shouldn't for a premium CDN, truly but if consuming over 100 GB or 500 GB, you can use CDN and according to me the MaxCDN will be a great fit for you because it is cheapest and feature rich.

A CDN provider has different plans on the basis of how much bandwidth your website is consuming. So, knowing your website bandwidth needs is necessary for choosing a perfect CDN for your website.
#2:

Where are Your Visitors Located?

It's also a very important thing that you must think about before signing up for a CDN. As I told you that CDN is a network of distributed servers across different geographic locations. So, make sure that your CDN has servers near to the places where your visitors are located.

For example, if majority of visitors to your site are from US, it will be good for you to go for a CDN with the servers spread across that region. So, my motive is to check the network or number of data centers of a CDN provider before signing up and according to your visitor's location, select a perfect CDN for you.
#3:

How Many Servers Your CDN Have?

However, the 2nd tip is very essential while choosing a CDN but it will also be a clever minded idea to see the number of servers the CDN have. If your CDN provider has very little number of server spread across the world, you should ignore that.

A CDN provider that has high amount of servers distributed across the world will be a great fit for those websites which get traffic from different regions across the world.
#4:

You Should Know the Concept of Pull or Push Server

It's also important to note that whether your CDN offers Pull or Push service. In a pull CDN a site owner leaves the content on their origin server and rewrites their URLs to point to the CDN. Most CDNs creates a pull zone for this purpose.

But, in case of push CDN, user uploads content directly to the CDN and links to it. So, you should take care of that which CDN you want. However, there are different CDN provides that offer the both Push and Pull service such as MaxCDN.
#5:

Technology and Support

Both of these are very essential factors to consider before choosing a best CDN. What kind of technology and support a CDN can offer? It's a worth asking question to the sales of that CDN company.

If you're having a website that provides the video downloading or streaming, you should make sure that the CDN you're looking for provides the streaming service or not.

And support, what kind of support you desire from a CDN provider? However, believing on a trusted and popular company reduce the concern of support but still there are different support options the companies offer such as email support, live chat and phone support. I strongly recommend you to go for a CDN that offer at least one of the Live chat or Phone support.
#6:

Pricing is also a Great Factor While Choosing a CDN

I know it many the first thing of consider for many people while selecting whether the CDN, web hosting company or any thing else. It should be! But, be careful that don't compromise the features due to cost.

Nonetheless, you should go for different CDN providers to compare prices and features as there may be a huge difference in pricing between different CDN providers.

Read Also: Important Tips for Choosing a Best Web Host
So..What You're Going for?
Have you decided which CDN provider will be perfect for your website? Did these tips help you in choosing a best CDN?
I will be happy to know your feedback! So, let me know what CDN you selected to accelerate your website.
For further helpful tips or any query in this regard, you can anytime ask me via comments, I will be happy to answer your questions!