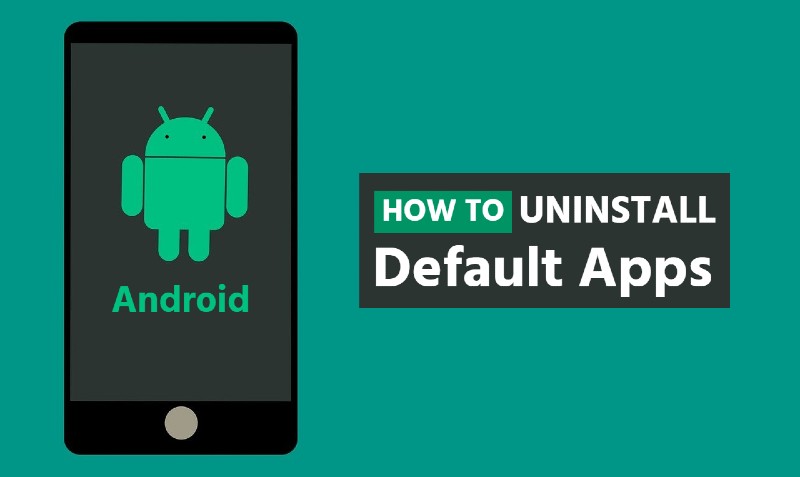 When we buy a brand-new smartphone, we see that there are already some apps on the smartphone. These apps are called Default apps, many users call them bloatware as well. Some of these apps are useful, but not all of them. There are many in-built apps that we don't want to keep on our smartphones. But, many users don't even know how to uninstall default apps from Android phones.
Even I know some of my friends think we can't uninstall these apps. Maybe you think the same. But, let me tell you that you can remove these default apps. Well, you have to stay tuned here to know how to uninstall pre-installed apps from your Android smartphone.
How To Uninstall Default Apps From Android Phones?
Now, I'm going to move on to the steps to uninstall the default apps from Android phones. So, have a look at the following steps carefully:
If you really want to uninstall built-in apps from your Android phone, you must root your Android device. It is the first step for the removal of default apps from your Android phone. But, you must be careful about the side effects of rooting Android.
After rooting your device, you'll be able to do more with your Android phone and can get full access to your smartphone. After rooting your smartphone, you have to install an app that allows you to uninstall default apps from your Android smartphone. You don't need to look for this type of app, you can install any one of the following
Now, here I'm providing you with 3 best apps used for uninstalling the built-in app from an Android phone:
EXA System App Remover is one of the best Android apps I found recently that claims that it can uninstall the system's built-in apps from your Android smartphone. You should give it a try as it is free to download and use.
As the app's interface suggests, you just have to install the EXA System App Remover from the Play Store and open it. On the very first screen, there will be a list of default apps. You have to select the apps that you want to delete and click on the Right sign. You can only uninstall system apps through this app, not all other user apps.
This app also claims for uninstalling default or built-in Android apps from your phone. This application helps you to freeze pre-installed applications on your phone. Unlike the EXA System App Remover, this is a paid tool you can download at the price of 75 INR. 
Including uninstalling apps, you can restore the deleted bloatware with the help of this app. And its restoring feature is worth the 75 INR that you will have to pay to install it.
System App Remover is also one of the best apps for uninstalling the default apps from Android phones. Notably, the app is available on Play Store but it doesn't for all smartphones. Some of the latest Android versions don't support this app. But what's the loss in an attempt? You can try if it works on your Android smartphone or not.
As compared to other apps, the System App Remover app comes with some advanced features such as safety as they back up every default app you uninstall so that you can restore them later, clean and clear interface, bulk uninstall, and more.
So, guys, by using the above 3 apps, you very simply uninstall any built-in or other third-party apps from your Android phone with just a single tap on the Uninstall button.
Verdict Words
As you found, rooting is the only way to uninstall pre-installed apps on Android. But, there are several cons to it like rooting any device breaks all the guarantees and warranties, security risk, affects performance issues, limited apps support, etc. To avoid all these risks, you can try an alternate way. What's that?
Instead of uninstalling these apps, you can temporarily disable these apps by applying the Force-Stop feature on that app. To do so, you have to go to Settings, and then Apps. After that, you have to tap on the app that you don't use and want to uninstall, in the newly presented screen, you can see an option, Force Stop, Simply tap on that.
By doing it, the app will be temporarily disabled, and stop using the RAM of your device, and will not affect performance. But as you tap again on that app, it will be activated again.