[Published on: Dec 12, 2014]  Do you want to go to Santa's Village? Yup guys, Santa has many more gifts and interesting games for you this Christmas. Truly, Google's Santa Tracker is letting you do all the fun with Santa Clause to make this Christmas a memorable one.
Google's Santa Tracker is providing many more fun and interesting activities for kids as well as elders. Santa's village has many fun activities that you can enjoy everyday. In fact, each day a new activity is unlocked. There are different games that you can play at Santa's Village.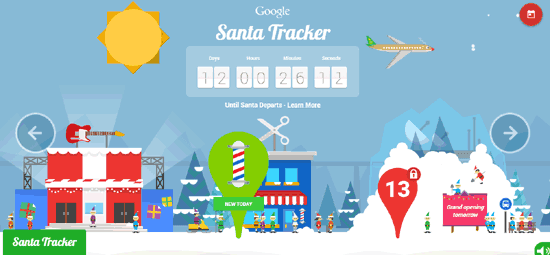 Don't worry, you don't need to find Santa's Village to go for such interesting fun. In fact, Google has done it for you and set up the residence at Santa's village. You just need to visit Google for this and it will give you the address of Santa's village.
Here's a few words from Google about Google Maps Santa Tracker:
On Christmas Eve we'll be proudly showcasing a Santa's dashboard, the technology that powers his sleigh during his around-the-world journey. We've received this special preview from one of Santa's many developer elves, who are hard at work in the North Pole helping Santa prepare for his big day. Santa's dashboard – featuring the latest and greatest in Google Maps technology and sleigh engineering – will allow you to follow his progress around the world, and also learn a little about some of his stops along the way.

Our friendly elves have also invited you to explore Santa's village while Santa gets ready for his journey. So go ahead and explore his village, you might just find some fun activities and meet some interesting elves.
To visit the Google Santa Tracker, you can go to Google, here you will find a link to visit the Santa's village. Or directly you can visit Google Santa Tracker by visiting santatracker.google.com.
MUST READ: Innovative Christmas Party Celebration Ideas